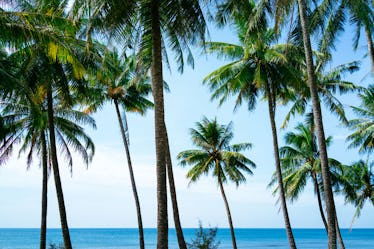 You Can Win A Free Trip To Belize To Play Hide 'N Seek, So Unleash Your Inner Child
Stocksy/J.R. Photography
Now that summer has gone and temperatures are quickly dropping, I'm already dreaming of tropical, sun-drenched beaches in anticipation for the cold and gloomy months ahead. If you've been sleeping on booking a fall getaway for when sweater weather starts dragging, you're in luck, because the government of Belize is offering five individuals with superior hide 'n seek skills the chance to banish travel FOMO once and for all this fall. Get ready to tap into your inner child, because here's how you can win a Belize vacation and compete in a giant game of hide 'n seek come November. You'll want to bring your A-game, because this countrywide tournament is definitely a few steps up from your childhood games in grandma's basement.
According to a video shared by Travel Belize, the Central American country is welcoming tourists and getting into the swing of competition this fall with the world's first nationwide game of hide 'n seek. Yes, this is a real thing, and yes, I'm so happy that this exists. I think we'd all be hard pressed to find someone who didn't love the game when they were growing up, and Belize's adult version set against the backdrop of the tropical country sounds like something my childhood self would have been obsessed with. After all, having 450 different tropical islands that are known for cool historical Maya ruins, private beaches, caves, dense jungle, and the world's second-largest barrier reef sound like somewhere where you could live out your Indiana Jones fantasies IRL. Plus, you can enjoy a scenic and warm location while you're at it.
Thankfully, it's super easy to make sure you're in the running for a free Belize getaway once everyone starts fleeing the freezing temperatures for some sun and relaxation. From Monday, Sept. 24 until Monday, Oct. 8, aspiring hiders and seekers who are at least 18-years-old and are U.S. residents can send an email to hideandseekbelize@gmail.com with "hider" or "seeker" in the subject line and an explanation of why they should be chosen for an all-expenses trip. The press release doesn't offer a lot of details about what they're looking for in the submissions, but they describe hiders as "those who like to escape from it all while on vacation" while seekers are "those who yearn for adventure." On that Monday, five entries will be randomly chosen (four hiders and one seeker) and notified that they are the winners.
In November, the lucky individuals will be flown to the country for the weeklong game which will "span the entire
 Belizean countryside, from jungle to beach." According to the fine print, four hiders will attempt to blend into the backdrop of Belize as one seeker, with the help of a local guide, will attempt to locate them in the space of a week.
"Belize is a curious place, and we are always looking for ways to evoke a child-like curiosity in travelers," Karen Bevans, Director of Tourism, Belize Tourism Board, said in the press release. "It may be a small country, but Belize is the perfect size to host the biggest game of hide-and-seek ever played. We look forward to showcasing all that Belize has to offer in the context of this beloved children's game."
Again, time's up on Oct. 8, so I'd get to submitting. Let the odds be ever in your favor.