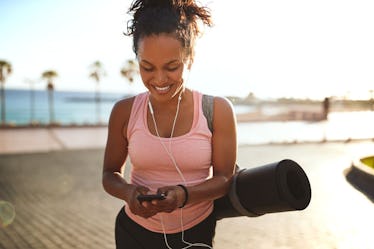 Experts Say Yoga Can Help You Get Ahead In Your Career In This One Major Way
I'm willing to bet that you're a leader. But I'm also willing to bet that there have been plenty of times in your life when you doubted your ability to lead, or even underestimated your influence within your passion or your job. I know I've had these doubts about myself — that is, until I realized how yoga can help you at work. I know it might seem like yoga and work have absolutely nothing to do with each other, but some experts are now arguing that the two are definitely related, in that yoga can actually benefit not just your performance at work, but your overall confidence in the office, too.
At a recent panel discussion during the 20th Annual International Leadership Association (ILA) Global Conference, experts from the University of Phoenix talked about how many of the major themes in yoga are similar to the characteristics of successful leaders, such as "nonviolence (peace), truthfulness, and wisdom," as per the panel's online summary.
Erik Bean, Ed.D, a research fellow at the University of Phoenix and chairman of the panel, says yoga can help you develop a sense of confidence that naturally lends itself to being a leader. "Yoga can help facilitate the type of careful thinking and self-discipline needed for successful leadership decisions and team-building, so a similar, careful thought process can be achieved," Dr. Bean tells Elite Daily over email. "The leadership role requires one to create and maintain peace within the organization, which involves promoting harmony among co-workers."
In yoga, says Bean, truthfulness means being honest with yourself, your abilities, and your limitations, which can all be applied to a leadership role. "Yoga provides a means to calm the mind, body, and spirit as one achieves the necessary building blocks of success," he explains. "[This] can help with really being in the present moment [and to] stay focused on career goals, as well as other aspects of daily life."
The ability to fully immerse yourself in the present moment speaks to the mindfulness that goes into yoga, which invites a unique sense of clarity into your state of mind, your body language, and even how you generally choose to communicate in the world, according to Nancy Gerstein, a yoga teacher, author of the book Guiding Yoga's Light, and founder of Motivational Yoga.
For instance, Gerstein tells Elite Daily over email, "a person in a bright, high-energy, positive state [with] open body language will attract others into their environment." On the other hand, she explains, "someone with a low, anxious, or angry mood can destroy their leadership abilities and turn people off."
In other words, practicing yoga can affect your entire mindset both on and off the mat, in that it can help you become more level-headed and balanced in the way you approach things in life. And you know that post-yoga high you get after being all blissed out in savasana at the end of a practice or a class? That restorative, introspective posture can do wonders for your overall disposition, and in turn, your work ethic, says Sara DiVello, a nationally recognized yoga and meditation teacher and bestselling author of the book Where in the OM Am I?
Savasana (aka corpse pose) helped DiVello while she was writing her book, she tells me, particularly when she was experiencing debilitating bouts of writer's block. Whenever she'd feel stuck in her work, she tells Elite Daily, "I'd roll out my mat and do a short practice (probably only 15 to 20 minutes), and when I came out of savasana, the words started flowing. I literally ran back to my desk and began typing as fast as I could."
In fact, DiVello tells me that yoga has benefited her work in multiple ways. Whether she's negotiating a contract or pitching herself for an opportunity, she explains, yoga always has the ability to not only center her mind, but also empower her to stand up for her ideas and remain strong in her sense of self-worth.
Plus, she points out, "you cannot think creatively from a chaotic, stressed state." From DiVello's perspective, the brain tends to work best from a calm, grounded state, and rolling out your yoga mat can be a great way to achieve that exact mindset.
Striking that balance between creativity and motivation requires flexibility, and even though yoga might traditionally be associated with physical flexibility, Veronica Parker, a kundalini yoga teacher and meditation coach, says the practice can also help you cultivate a mental sense of resilience. "Your mind becomes clearer and more focused," she tells Elite Daily in an email. "Both your body and mind become more flexible. This helps you expand your vision and release subconscious thoughts limiting you and your goals."
Yoga encourages you to step outside your comfort zone, Parker adds, and helps you feel more at ease with the idea of putting yourself out there to take risks and achieve your goals. "[This] empowers you to advance your career and serve the world as the leader you were meant to be," she explains.
If I had to guess, you're probably thinking that this all sounds too good to be true, right? Like, how could something as simple as stretching your body on a yoga mat translate to impeccable leadership skills?
In truth, Susan Shumsky, a yoga teacher and author of the book Exploring Meditation, says that leadership does come from within. "Either you are born with it, or you acquire it through self-development," she tells Elite Daily.
But that doesn't mean you can't be a leader if you're naturally a bit shy or reserved, or generally hesitant to speak up in a crowded room. "Yogic practices, which increase confidence, are the best way to improve yourself and enhance your leadership skills," Shumsky explains, because the movements can help you tap into a magnetic, charismatic energy inside yourself — and we all have that energy somewhere inside of us, as far as is Shumsky is concerned. But it's up to you to dig deep, discover that energy, and channel it in everything you do.