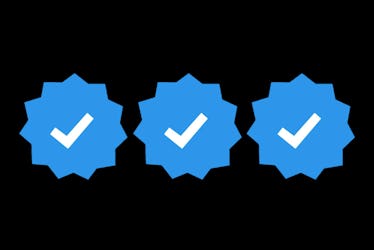 Instagram Made It Even Easier To Verify Your Account, So Hello Blue Check Mark
Instagram
I'll be honest with you: Whenever I see a blue check mark on someone's Instagram page, I get pretty jealous. I've been hoping for a sweet, sweet verification badge to appear on my grid for years, but it still hasn't come. I haven't given up yet, though — and Instagram's newest verification feature is giving me hope. On Aug. 28, the company unveiled an application to help users apply for a blue badge, and it's really easy to use. If you're someone who's been longing for a verification check mark (like myself), you should learn how to verify your Instagram account with the app's new forum.
In order to apply for verification, you'll have to follow a few simple steps. First, you'll need to open Instagram and view your profile. Once you're there, hit the menu button on the upper righthand corner of your screen, and then press "Settings" at the bottom of the page. Then, you'll be taken to the "Options" menu, where you'll see "Request Verification" (you might have to scroll down a little bit before you see it). Hit "Request Verification," and Instagram will bring you to the next (and final) page. There, you'll be given a few steps that'll bring you closer to your beloved blue badge.
Once you're on the "Request Verification" page, you'll need to type in your Instagram username above your full name. Then, you'll have to get your wallet out (not for money, though). Instagram asks for a photo of your government-issued ID, which can include a driver's license, a national identification card, or a passport. If you don't have those, you can also submit a photo of an official business document, such as a utility bill or tax files. Don't be creeped out, though; none of the information you share with Instagram will be shared in public.
After you've added your username, full name, and a photo of your government-issued ID (or official business documents), you can go ahead and hit "Send." Don't get too excited, though: Just because you submit an application to be verified doesn't mean you'll automatically get the pretty blue check mark. According to Instagram, the app will review your request and then let you know whether or not you've been approved via your notifications tab. So, after you submit your application to be verified, sit back and hope for the best.
Instagram made it clear that the company will never request money for a verification badge, so keep that in mind while you're on pursuit of a blue check mark. The app also confirmed that it'll never reach out to you directly to confirm your verification. In a world full people seeking blue check marks, this is important to keep in mind.
Even though verification badges are pretty cool to have on your grid, it's important to remember why Instagram made them accessible in the first place. The company recently unveiled its new application process amongst a handful of safety features at the end of August. Its goal was to assure users that the profiles they are interacting with are "authentic" — and the verification badge makes that possible.
So, what are you waiting for? Go apply for your beautiful blue badge!