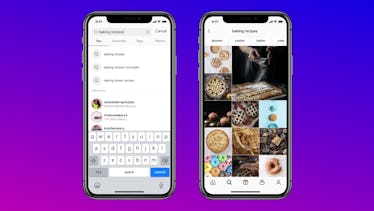 Instagram's New Keyword Search Tool Makes Finding What You Want SO Easy
Courtesy of Instagram
Instagram is making it easier to find inspiration for your next baking project or overseas vacation (when that's a thing again), thanks to a new search update. While 'Gram users have previously been able to look things up using hashtags, account usernames, and locations, the social media platform is now taking cues from Google and other search engines with a new keyword-based feature. Here's how to use Instagram's keyword search, which will roll out over the next few days following its official debut on Nov. 17.
Instagram is enhancing your scroll sessions by making it easier to directly search topics related to your interests. Unlike in the past, where you had to search specific hashtags, locations, names, and usernames to find what you were looking for, the social media giant is cutting out the extra work and will now pull up a page of videos and photos from different content creators, with different hashtags, locations, and more that are tied to the keyword you entered in the search bar.
To use it, open up your Instagram app on your device and head to the search bar at the bottom of your home screen. Once you type in a keyword based on what you'd like to browse, Instagram will populate related searches based on your keyword which you can tap on. It will then take you to an Explore page with a feed related to your search. For example, I searched bread, and it showed me: "bread baking," "bread," and "bread art." I tapped on bread baking, and it pulled up an Explore page with bread baking posts, as well as an option to choose "recipes," which then took me to more recipe-focused posts.
A Facebook spokesperson tells Elite Daily that unlike when populating an Explore page based on hashtags, the keyword search uses a number of factors, such as the type of content, captions, and when something was posted, to curate the perfect page for your search term. You should also be able to see past keyword searches when you tap on the bar.
One thing to keep in mind is that the initial rollout includes limited search terms — for example, words like "election," "Trump," "Biden," and "climate change" didn't bring up any results in the keyword search as of Nov. 17. The company plans to "improve and add to the list of keywords" over time, says a Facebook spokesperson: "At present, the search is limited to general interest topics and keywords as it is meant to help you go deeper [in] your interests"
In addition, not everyone will be able to use the feature following its initial launch. Instagram says users in the U.S., Canada, the UK, Australia, New Zealand, and Ireland will all be able to access the new tool. If you don't see the new feature right away in the countries it's rolled out to, you should update your Instagram app if you haven't already. If you don't see it right away, keep an eye out for it in the coming days.
Instagram has yet to confirm when it will be offering the update in other languages to non-English speaking countries, but 'Gram users with the new tool should head to the platform to check it out and hopefully discover some new content while they're scrolling.