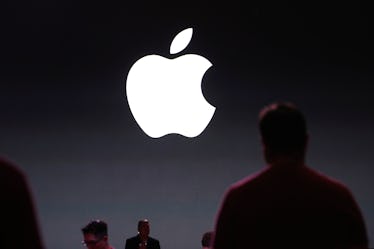 It's Super Easy To Stream Apple's Keynote, So Get Ready To Swoon Over New Phones
Justin Sullivan/Getty Images News/Getty Images
September might as well signify the holiday season for iPhone users, because Apple is presumably unveiling a handful of new products during its "Gather Round" event on Wednesday, Sept. 12. The highly anticipated gathering is happening at Steve Jobs Theater in Cupertino, California, — but you don't have to be in the Golden State in order to watch it. Thankfully, you can stream the keynote from the comfort of your own bedroom (even though you'd probably like to be in Cupertino). Still, I'll tell you how to stream the Apple 2018 keynote so you don't have to buy a last-minute plane ticket to Cali.
To be completely honest, streaming Apple's "special event" is really easy. Elite Daily reached out to Apple and asked how viewers can watch it, and the company directed readers to the Apple website. So, in order to watch the event live on Sept. 12, all you'll need to do is find some Wi-Fi, open your web browser, and navigate to Apple's page. There, you will see the "Gather Round" event as it's filmed live at Steve Jobs Theater. It's literally that simple.
If you're sad about not being able to attend the actual event, put it this way: You can live stream the keynote from the comfort of your own bed. Heck, you can watch it while you're wearing pajamas, and cry tears of happiness when Apple unveils the iPhone of your dreams.
This isn't the first time Apple will live stream a keynote on the company's website. However, it will be the first time the event will be live streamed on Twitter. According to MacRumors, Apple will be live streaming the keynote on Twitter for the first time in the company's history. This is exciting stuff, guys!
Apple tweeted about the live stream on Sept. 10, and said, "Join us September 12 at 10 a.m. PDT to watch the #AppleEvent live on Twitter. Tap [heart emoji] below and we'll send you updates on event day."
So, in addition to the live stream, Apple will send you Twitter updates throughout the event if you hit the "like" button on the company's tweet.
Once you hit the "like" button, you'll immediately receive a response from Apple that'll remind you about the upcoming keynote. It'll also tell you how to opt out of further Apple notifications.
My Twitter notification looked like this:
If you're trying to live stream the Apple event and keep yourself informed with live updates, Twitter might be the place for you. But if you're just planning on kicking back, relaxing, and enjoying the show, head to Apple's website.
Apparently, there is an additional viewing option for those of you who own an Apple TV. According to TechRadar, you can also live stream the keynote on the Apple Events app. However, keep in mind you must be running on tvOS 10.2 in order for the app to download.
Now that you know how to view Apple's keynote on Sept. 12, you're probably wondering what time you have to sit down and watch it. According to Apple's website, the event will officially begin at 10 a.m. PT. So, do your time zone conversions and figure out when it'll air in your city. You definitely don't want to miss this.