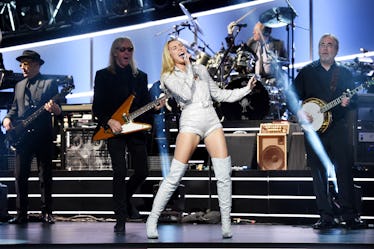 Here's How To Stream The Grammys So You Don't Miss One Musical Moment
Michael Kovac/Getty Images Entertainment/Getty Images
My second most favorite time of the year is coming. No, not Christmas. No, not free ice cream cone day at Ben & Jerrys. I'm talking about the Grammys. This year, the 61st annual Grammy Awards are airing on CBS on Sunday, Feb. 10, and I want you to mark your calendars. If you're wondering how to stream the 2019 Grammys so you don't miss one musical, magical moment, I've got you covered there, too. I'd seriously hate for you to miss any amazing fashion statements on the red carpet, any iconic performances, and certainly whoever wins Album of The Year. So listen up.
The most OG way to tune in would literally be to hit up the old fashion cable box. The Grammys will begin at 8 p.m. on CBS and are being filmed live from the Los Angeles Staples Center.
If cable ain't happening, there are two "official" ways to stream the show. You can either head to the CBS All Access website or the CBS All Access app. CBS All Access is CBS' streaming service and it's available all over the United States, providing viewers with on-demand access to other awesome CBS shows. While you don't need cable or satellite, the service does require you to pay a subscription. You can watch with commercials for $5.99 a month, while it costs $9.99 a month to watch commercial-free. If you're not into paying for another streaming service (since you have Netflix already), you can just wait until the week before the show and sign up for a one-week free trial. Up to you. Click here to check it out and sign up!
If you plan to watch the goods from your phone (make sure to download the CBS All Access app), you simply need to log in on Feb. 10th and tap the Grammy Awards icon. (My guess is it will look like the iconic Grammys gramophone, but who knows?) It is also noted that you can watch a replay of the show the following Monday should you miss it in real time. Of course, the benefit of streaming is you watch the main event at your leisure and do it virtually anywhere.
Fortunately, CBS All Access isn't the only way to access a live stream of your local CBS Station. Options like YouTube TV, DirecTV, PlayStation Vue, and Hulu with Live TV should also provide Grammy viewing options. However, Lifewire notes, "If you live outside a participating media market, these services are only able to provide on-demand access to shows that have already aired." Womp.
The great news is you have plenty of time to prepare. Stock up on your boxed wine and Pizza Bagel Bites now, because these things are known to run a long time. Right now, CBS predicts it will end around 11:30 p.m. EST, which might be past some folks' bedtime. As it stands, the categories and nominees have yet to be announced to the public but people can anticipate voting closing on Jan. 9. Obviously, I have a few favorites I'm crossing my fingers for. (Ariana Grande, etc. etc.)
Pick your viewing-poison above and see you in the New Year, kids!