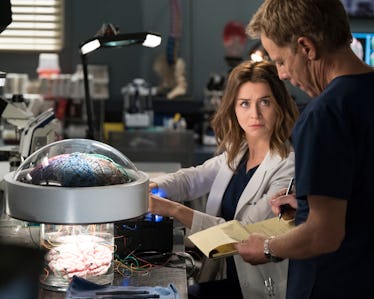 Here's How To Stream 'Grey's Anatomy' Season 15 If You Can't Watch It On TV
ABC
Grey's Anatomy is back, and it's officially tying the medical drama record with ER as it begins Season 15. This is, as Shonda Rhimes described it, the "Season of Love," which means more romance, more drama, more tears, and more, well, love. But for those who have cut the cable cord for one reason or another, how does one stream the two-hour leading light in ABC's premiere of the Shondaland block of shows? Not to fear, here is how to stream Grey's Anatomy Season 15 so you don't miss a minute or a hospital machine beep.
Sept. 27 is expected to be a drama-filled two-hour premiere, not only introducing new characters like the "Ortho-God," played by Nashville's Chris Carmack, but bringing back older ones like Teddy. The two hours is not a single episode, but two installments back to back, with the first hour's episode entitled "With a Wonder and Wild Desire" and the second "Broken Together," The second episode, by the way, is directed by Grey's own Kevin McKidd.
Here's the synopsis for the opening episode, airing at 8 p.m. ET.
The doctors at Grey Sloan Memorial vie for a new position. Meredith is seemingly distracted and struggles to stay focused, and Maggie finds herself the keeper of a big secret while Amelia and Owen try to figure out their relationship. Meanwhile, Jo and Alex's honeymoon doesn't go exactly as planned.
The synopsis for the second episode, airing at 9 p.m. ET reads:
New doctors continue to shake up the hospital in typical Grey Sloan manner. Meredith bonds with a patient while Jackson struggles with the meaning behind recent experiences, and after making a life-changing decision, Jo forms an unexpected alliance.
As for how to watch without a cable cord, the best option is Hulu. ABC is a one-third owner of the streaming network along with NBC and FOX. This makes them keen to partner with Hulu to broadcast their network as part of the "live TV" bundle offered to subscribers and means Hulu basically will simulcast tonight's program via their streaming bundle.
If Hulu isn't your thing, the other best bests are either PlayStation Vue and DirecTV now. DirecTV already serves as a cable alternative in many markets, and their "Now" package is basically ordering sections of cable channels a la carte. PlayStation Vue's idea is to use their gaming platform, which is already part of many at home media setups and use it to provide a cable alternative, from one of four different packages. (ABC, being a broadcast channel, is included in all four versions.)
And of course, if you have a cable account, but are somewhere other than home, you can always log into ABC.com and stream the show directly from their website.
Grey's Anatomy two-hour Season 15 premiere airs tonight, Thursday, Sept. 27, 2018, starting at 8 p.m. ET, followed by How To Get Away With Murder at 10 p.m. ET. Station 19 will enter the line up in the 9 p.m. hour starting next week.