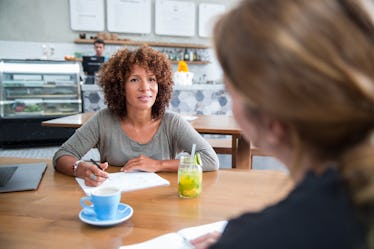 This Is What Actually Makes A Resume Stand Out To Hiring Managers
Jovo Jovanovic/Stocksy
Generally speaking, it's easy to stand out. Some people wear loud colors or raise their voice when they want to be noticed. Others — by flashing a smile with a bit of food in their teeth or tracking toilet paper around the office — stand out despite their best efforts not to. Making your resume stand out in a pool of professional candidates, however, can be tricky.
The people who are scanning your resume are just that — people. They have a sense of style, perhaps a favorite typeface, and other preferences you will never be able to predict. What seems really witty to some, might seem tacky to others. Though it's impossible to craft a resume to please every hiring manager, there's plenty you can do to impress those reviewing your credentials.
I wouldn't get hung up on whether or not you feel like you have enough on your resume.
Elite Daily interviewed several hiring managers to discuss what works and what doesn't when it comes to resumes.
Get the important stuff up top.
"You wouldn't believe how many people forget to put their contact info on their CV!" says Jessica Williams, author of How to Get a Job and founder of Sidekicks, a talent-recruiting agency based out of WeWork in central London.
Williams says she and her team review at least 500 resumes per day — more if they're especially busy. How long of a glance does each one get?
"They say 30 seconds," Williams says, "but I actually think it's less."
Alexandra Finkel, editorial operations director at Bustle Digital Group, agreed: "Bank on the fact that the recruiter does not have a lot of time."
But don't assume "the important stuff" is the same for everyone. While recruiters need a candidate's name, contact information, education, and most recent position featured prominently, many industries want to see other details, like a GPA.
"If it's above a 3.0, we want students to have it on their resume," says Danielle Levy, Vice President and Campus Recruiting Manager for Asset Management, Corporate and Institutional Banking and Retail at PNC Financial Services, who focuses on student recruitment on college campuses for PNC's early career pipeline programs and internships.
Levy adds that certain industries may look for specific skills, which would be better placed higher on a resume. "If you're applying to a technology position, you should put the languages that you know under your education so it's easy for a recruiter to see that you know C++, for example," Levy says.
Don't go overboard with formatting.
Resumes ultimately just need to convey pertinent information about you, and it generally irritates recruiters if you go overboard with fonts, color schemes, or graphics. Williams remembers attempting to read a resume entirely in the font Curlz Mt. She discarded it very quickly, as it was nearly impossible to get through. "Keep it simple," she says.
Finkel says, "Generally, I would stay away from really visual resumes." A traditional resume can get the job done, and if you need to be creative, you can use color in an interesting way. The biggest thing, Finkel says, is that it's easy to read.
It also depends on industry; creativity is more welcome for creative positions. One of Finkel's favorite resumes was from a copyediting candidate who marked it up with copyediting symbols — correcting intentionally placed errors. For financial and corporate positions, Levy recommended refraining from creative gestures.
What if your resume is more than one page?
It shouldn't be.
Recruiters and hiring mangers don't have a lot of time to devote to individual resumes, and if it's more than one page, you're probably listing unnecessary information — particularly if you're a student. "We like it to be one page," Levy says. "It would be very surprising if you had that much experience in college for it to go beyond one page."
Williams also prefers single-page resumes, but she says she wouldn't automatically throw it out if there were other impressive elements.
You can make a huge impression just by using spell-check and sending your resume as a PDF.
"Make sure that you've looked at it, your friends have looked at it, your mom has looked at it," Finkel says, adding that she fields many resumes with glaring typos.
She recommends starting bullet points with a verb and being careful not to confuse tenses — current positions in present tense, former positions in past tense.
"Another thing is the file type," Finkel adds. "I always say that people should send things in a PDF. Sometimes Word can get a little weird."
"A PDF is just a safety net to make sure that all of that hard work that you've put into your resume formatting transfers over to the company regardless," Levy agrees.
There's plenty you can do to stand out even without a ton of experience.
It's shortsighted to think your resume must be a list of impressive companies early on in your career. Things like extracurriculars, clubs, and part-time jobs indicate work ethic — and make for great conversation in an interview.
"The goal is really just to relate anything you've done in the past and how that can be relevant to the job you're applying to," Finkel says. Williams says you shouldn't underestimate what extracurricular activities mean to a recruiter. If it's something that involves commitment, for instance, it can indicate that you're responsible and hard-working.
You don't necessarily need a four-year degree to get a job at IBM.
Ultimately, it's all in the way you frame it. "There's a lot of stuff that goes into being a waitress that you wouldn't normally think about. So, don't just put on your resume, 'I was a waitress at Red Robin for two years.' Put that you had strong customer service; focus on the responsibility that you had — that you managed money; that you dealt with conflict," Levy says. "I think there's a lot of different skills and qualities that you develop through a job like waitressing, working in a retail store, babysitting, etc."
But like anything, you don't want to overdo it. Kelli Jordan, a talent leader for IBM's "New Collar" initiative, says to focus on quality over quantity.
"I wouldn't get hung up on whether or not you feel like you have enough on your resume," Jordan says. "Don't pad it out with unnecessary things just to make it feel like it's bigger and broader."
And no matter what, get ready to brag.
Finkel says it's not enough to just list your duties. "Always focus on what you did as well as the results," she says. "I love seeing numbers on a resume. Details are great."
Jordan acknowledges it can be hard to essentially brag about what you've done, but she uses a system for herself that works. "I try at least once a quarter — so every couple of months — to reflect back on what happened," she says. "What successes did I have? What did I accomplish?"
Yes, you can apply for a job in an industry you didn't major in.
"Students shouldn't be afraid of industries they're not as familiar with," Levy says. "They see a technology company and think they only have jobs for technology backgrounds. Or they see a bank, and think you have to have a finance major. But basically any corporation has opportunities for a variety of majors."
Increasingly, resumes are being screened by artificial intelligence (AI) programs, Jordan says, so you'll want to make sure your resume's language reflects the position you are applying to. "The way a lot of the technologies work is that they are trying to match the skills they are reading on a candidate's resume to those they are reading on a job description," Jordan says.
And there are options if you don't have a four-year degree.
"You don't necessarily need a four-year degree to get a job at IBM," Jordan says. "What IBM and other companies are really focusing on now is the idea that you have skills — it's not necessarily about a credential."
Jordan works for an IBM recruiting program that refers to a growing category of jobs — which prioritizes skills over degrees — as "New Collar" Jobs. These jobs are in areas like AI and cyber-security, according to Jordan, and accounted for about 15 percent of IBM's hiring last year.
"It's really opening up the aperture and the pipeline for candidates who may have gained their skills in less traditional ways," Jordan says.
Crafting a resume does not need to be a nerve-wracking process. Levy and Williams don't recommend paying for resume-building services — as long as you focus on your skills and do your research about the industry you're applying within, you should be good as gold.
"You can do it!" Williams says. "You are the best person to sell you."