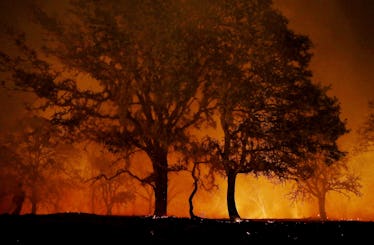 Here's How To Help Victims Of The Devastating Kincade Fire In California
MediaNews Group/The Mercury News via Getty Images/MediaNews Group/Getty Images
On Wednesday, Oct. 23, a devastating wildfire erupted in Sonoma County displacing residents from their homes and leading firefighters to immediately take over the area. Nearly a week later, it's still ongoing. This marks yet another fire to hit the Golden State, so here's four ways to help victims of the Kincade fire.
The wildfire, referred to as the Kincade Fire, in California's picturesque wine country Sonoma County began on Wednesday, Oct. 23, and as of Oct. 28 nearly 200,000 people have had to evacuate the area. According to The Washington Post, the fire is currently heading south towards Santa Rosa, California, and Gov. Gavin Newson of California declared a statewide emergency on Sunday, Oct. 27 as more evacuation orders were issued and the fire continued to spread across the Bay Area. As of Oct. 27, the five-day wildfire has burned over 66,000 acres of the area and the Post reports that the California Department of Forestry and Fire Protection (Cal Fire) has stated the fire is only 5% contained so far.
According to the Center for Disaster Philanthropy (CDP), since 2017 5,819 wildfires in California have burned through more than 162,693 acres of land, and per NBC News, 2018 was the state's worst fire year in history. Residents across California have been extremely impacted by the wildfires across the state, so I've compiled four ways to help victims of the Kincade fire, whether you're in the Golden State or across the country.