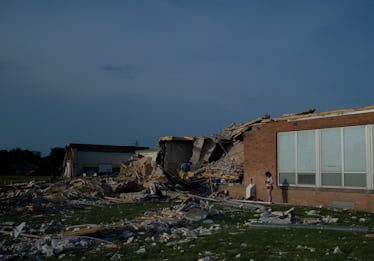 The Tornado Destruction In The Midwest Is Serious, But You Can Help
Matthew Hatcher/Getty Images News/Getty Images
Since Monday, May 27, tornadoes have been ripping throughout the Midwest, leaving a path of destruction through states like Ohio and Indiana. Homes and businesses are ruined. Water services and power have been knocked out in some places. People are injured — and some have even lost their lives. It seems like the road to recovery may be a long one, so if you have anything at all to spare, here's how to help tornado victims in the Midwest.
If you've missed it, a swarm of tornadoes swept across the parts of the Midwest on Monday, blowing through Ohio and Indiana. According to CBS News, the storms were packed so tightly that their paths may have actually overlapped. As you can expect, the devastation is serious. The storms ripped roofs off of homes, knocked down trees, left so much debris that it could be seen on a radar, and resulted in at least one death and 90 injuries. The storms are part of a relentless weather pattern across several states, and occurred just days after a tornado hit Oklahoma, leaving a trail of devastation. Per CBS, at least 53 twisters have hit eight states on May 28, stretching eastward from Colorado and Idaho.
It seems like it could not be worse for the residents of those states, but with a little bit of help, they could be back on their feet soon. Let's go over some things you can do to help.