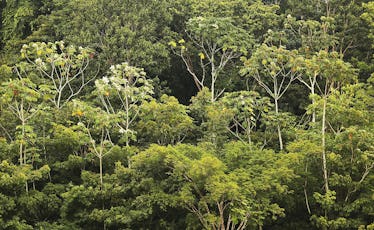 These Are 4 Ways You Can Help The Amazon During The Wildfire
Mario Tama/Getty Images News/Getty Images
The Amazon rainforest is one of the most important ecosystems in the world, and it's in trouble. In August 2019, the forest nicknamed the "lungs of the planet" was hit by a devastating wildfire that has been destroying acres of the irreplaceable forest. This could devastate the planet, so here's how to help the Amazon during this serious wildfire. Listen up, everyone.
The Amazon rainforest consists of nearly eight million square miles, and two-thirds of the rainforest is within Brazil. However, over the past few days, Brazil's section of the Amazon rainforest has experienced one of the largest wildfires in history. The exact size of the wildfire has yet to be confirmed, but according to National Geographic, the National Aeronautics and Space Administration (NASA) stated on Aug. 11 that the wildfire had reached such extremes that it could be seen from space. Unfortunately, this isn't the first wildfire Brazil's Amazon has seen. Brazil's National Institute for Space Research (INPE) found that that have been nearly 73,000 fires in 2019 so far, and 9,000 fires have been spotted over the past week alone. Even worse? The number of wildfires in 2019 is an 80% increase compared to last year.
Not only will the billions of animals, plants, and insects inside the Amazon rainforest feel the damage, but indigenous groups have also been impacted. Indigenous rights group Survival International estimates that 305 tribes live in Brazil today, and over 98% of indigenous reserved land is within the Amazon.
Even for those who are thousands of miles away, this wildfire impacts people across the world. So, here's a list of ways to help the Amazon during this natural disaster.