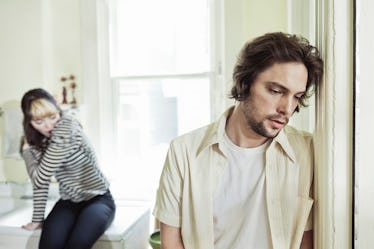 7 Women Reveal How They Deal With Agreeing To Disagree With Their Partner
Relationships can be wonderful in many ways. On some days, it feels like your life is a fairytale. You (hopefully) have found someone you truly love to spend the rest of your days with and, suddenly, you understand what all of those cheesy love songs on your Spotify playlist are really about. But, of course, there are also days where your romance doesn't quite feel like it belongs on Ariana Grande's "Sweetener." Sometimes, it feels like the two of you are living on different planets. When this is the case, it's important to know how to handle agreeing to disagree with your partner.
As nice as it would be to live in a world in which my partner and I manage to see eye to eye on every single topic, the fact of the matter is that we are vastly different people who are, at times, going to butt heads. There are some topics we simply will never agree upon. For a long time, I had no idea how to handle these situations. I thought we had to be on the same page about everything or our relationship was screwed. Two years down the line, I'm here to report that I was wrong. Really wrong. Disagreeing on things can be good! Obviously, you don't want to be disagree about everything, but dating your carbon copy would be a total drag.
The key is learning how to deal in those moments where your partner is being especially frustrating. The ladies of this Reddit AskWomen thread have some great advice for how to handle agreeing to disagree. I've included their best responses below.