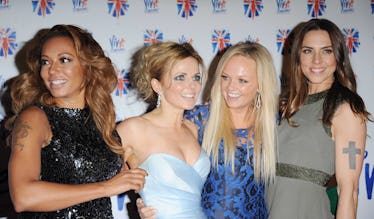 Here's How To Get Tickets To The Spice Girls Reunion Tour, So You Can Spice Up Your Life
Stuart C. Wilson/Getty Images Entertainment/Getty Images
By now, you know that the Spice Girls are reuniting for a tour in 2019. And if you're longing to go back to the '90s, then you're probably wondering how to get tickets to the Spice Girls reunion tour. The answer to that is actually quite simple! Read on and I'll give you all the info you need about scoring tickets to one of the Spice Girls' 2019 shows.
While only four of the five original Spice Girls (Posh Spice is sitting this one out) will be reuniting for the 2019 tour, fans are still buying tickets in droves. When the famed girl group first announced they were reuniting for a tour, tickets were in such high demand that they added several dates to the lineup almost immediately. Given how popular the Spice Girls still are, it wouldn't be surprising at all if they added even more dates to their upcoming tour.
The Spice Girls have apparently been talking about a reunion for quite some time and even sparked rumors back in February 2018. At the time, Victoria Beckham posted a photo of herself and her former bandmates on Instagram. And that gave fans the impression that a big reunion was about to be announced. Here's the photo:
While fans had to wait months for any news of a reunion, it turned out to be worth it because the Spice Girls are doing a total of a dozen shows in late spring of 2019. So, that's plenty of opportunity for fans to catch a glimpse of their favorite girl band.
In any case, here all the tour dates that are on the docket for the time being:
Monday, May 27 - Principality Stadium, Cardiff
Wednesday, May 29 - Etihad Stadium, Manchester
Friday, May 31 - Etihad Stadium, Manchester
Saturday, Jun. 1 - Etihad Stadium, Manchester
Monday, Jun. 3 - Ricoh Stadium, Coventry
Tuesday, Jun. 4 - Ricoh Stadium, Coventry
Thursday, Jun. 6 - Stadium of Light, Sunderland
Saturday, Jun. 8 - BT Murrayfield Stadium, Edinburgh
Monday, Jun. 10 - Ashton Gate Stadium, Bristol
Thursday, Jun. 13 - Wembley Stadium, London
Friday, Jun. 14 - Wembley Stadium, London
Saturday Jun. 15 - Wembley Stadium, London
As you can see, there are 12 shows total scheduled for 2019. And they all happen to be in the United Kingdom. So, if you're an American fan hoping to catch the Spice Girls on stage, then you'll have to travel across the pond to do it. If you're not willing to travel, then you'll just have to sit tight until the Spice Girls decide to make their way over for an American tour. As of right now, though, there's no indication that the Spice Girls will be doing additional legs of their stadium tour.
As for scoring tickets, all you need to do is head over to Ticketmaster and snatch up whatever's left. Like I mentioned previously, there are 12 different shows to choose from and the ladies will be doing multiple shows in London, Coventry, and Manchester. So, if those cities are closest to you, you'd do best to snag a ticket to one of those shows.
According to Cosmopolitan, ticket prices will differ from city to city. Ticket prices are also determined by where in the venue you'll be seated. So, just keep that in mind as you're clicking through to purchase your tickets.