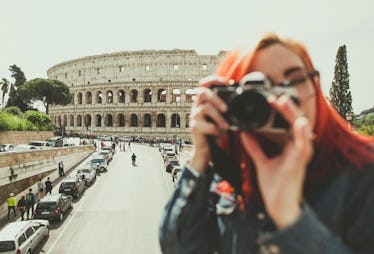 You Can Travel Around Italy By Train For $25, So Now All You Gotta Do Is Get There
Visiting a foreign country is great, but it's also really expensive. Before hopping on a plane, you usually need to set an itinerary and make sure you have enough money saved to get from one place to the next. Sometimes, that means booking bus rides between cities or catching a flight from one side of the country to another. Luckily, two travel websites joined forces to create a tool that'll help you see Italy on the cheap. So, if you just landed in Rome and plan on city hopping, I'll tell you how to get GoEuro's $25 tickets around Italy. You'll have to travel by train, but who says that's a bad thing?
To be honest, I love train rides. That's why I'm so excited about the new partnership between GoEuro and Italo Traino. According to Travel + Leisure, the wanderlust-inducing websites partnered to create cheap train tickets for people exploring Italy in fall 2018. The tickets will allow riders to travel from Rome to Florence (or vice versa), and stop at Venice in between. If you're visiting Italy for the first time and hope to cross a few cities off your bucket list, then this might be your golden ticket.
Of course, you'll have to get to Italy before taking advantage of the deal — so start looking for flights.
If you booked your flight, you can start planning your train trip. But before you scan GoEuro for $25 tickets, keep in mind that the sale will begin on Aug. 31, per Travel + Leisure. The tickets that you purchase after the 31st will be good for city hopping between Oct. 17 and Dec. 8. When you think about it, that gives you the perfect excuse to see some of Italy's most famous cities just in time for the holidays.
Now that you know when to buy the tickets, let's talk about how you can do it. Apparently, it's not as easy as booking a one-way trip across the country, so listen up. As I mentioned before, you'll have to book a trip from Rome to Florence (or the other way around). Then, you'll need to add a Venice stop in between... because, duh. (You obviously want to see Venice, right?)
Once you have your itinerary set, make sure you're booking your ticket "open jaw." That'll land you a price of €20 for three cities, which equals out to about $23. Once you think about it, that's way less money than you probably spend on brunch every weekend... so why not splurge on a train ride through Italy?
When you're booking, keep in mind that your train ticket will increase in price when you book a return trip to your origin city. So, spend some time at your last stop before you head back home, and make the trip totally worth it.
Again, taking advantage of this train ticket deal means you'll have to physically be in Italy. That means now is your time to book the European vacation of your dreams.