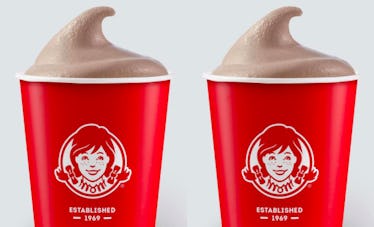 You Can Get Free Frostys For A Whole Year If You Spend $2 At Wendy's Right Now
A Frosty from Wendy's is unlike any other dessert. Sure, you can't really sip it like a milkshake or eat it out of a cone — but who cares? Its creamy consistency is perfect for anyone who adores extra soft ice cream (like me). If you share a love for Wendy's go-to dessert, then you'll be thrilled to find out about the company's latest deal. Right now, you can make a cheap purchase at the fast food chain that'll score you free Frostys for an entire year. That's 365 days of unlimited Frostys whenever your heart desires (!!!). Now, you're probably wondering how to get free Wendy's Frostys in 2019. Thankfully, it's super easy to do — and it'll only cost you $2.
On Monday, Nov. 5, Wendy's made a Twitter announcement about its latest promotion that'll help customers get free Frostys throughout 2019. According to the tweet, those who visit Wendy's locations will need to purchase $2 Frosty Key Tag in order to get a year's worth of free Junior Frostys. According to Delish, customers can score their complimentary Junior Frosty whenever they make a purchase at the restaurant. However, they'll need to reveal their tag if they're hoping to get their free dessert.
In other words, it'll only cost you $2 to get free Junior Frostys at Wendy's throughout the year. Keep in mind that you'll have to order something else during each visit in order to get the freebie, though.
Don't wait on the offer, either. Per Delish, customers only have until Dec. 31, 2018 to buy one of the Frosty Key Tags. That means you have a little over two months to spend a few bucks on a tag that'll get you free dessert for the duration of 2019. Once you get a key, you can use it until Dec. 13, 2019. In other words, you have a pretty long time to visit Wendy's and get your favorite dessert on the house.
So, what's the catch? Apparently, there is none. In fact, the deal gets even better, because the cash you spend on your Frosty Key Tag will go to a good cause. That good cause is the Dave Thomas Foundation for Adoption, which is an organization that the founder of Wendy's created. (FYI, the founder of Wendy's is Dave Thomas, and he was adopted.) The foundation helps foster children find loving homes — and each tag purchase will act as a donation toward it. More specifically, 85 percent of each $2 purchase will go to the Dave Thomas Foundation for Adoption, per Delish.
Believe it or not, this isn't the first year Wendy's has offered Frosty Key Tags in honor of the foundation. In fact, the company did the same thing last year — and those of you who purchased a tag in 2017 have probably been enjoying free Junior Frostys all year long. Go figure.
Hopefully more people who find out about Wendy's free Junior Frosty deal will purchase a $2 tag between now and the end of December. Not only will the promotion satisfy customers' sweet cravings, but it'll also help fund the Dave Thomas Foundation for Adoption. It's a total win-win.