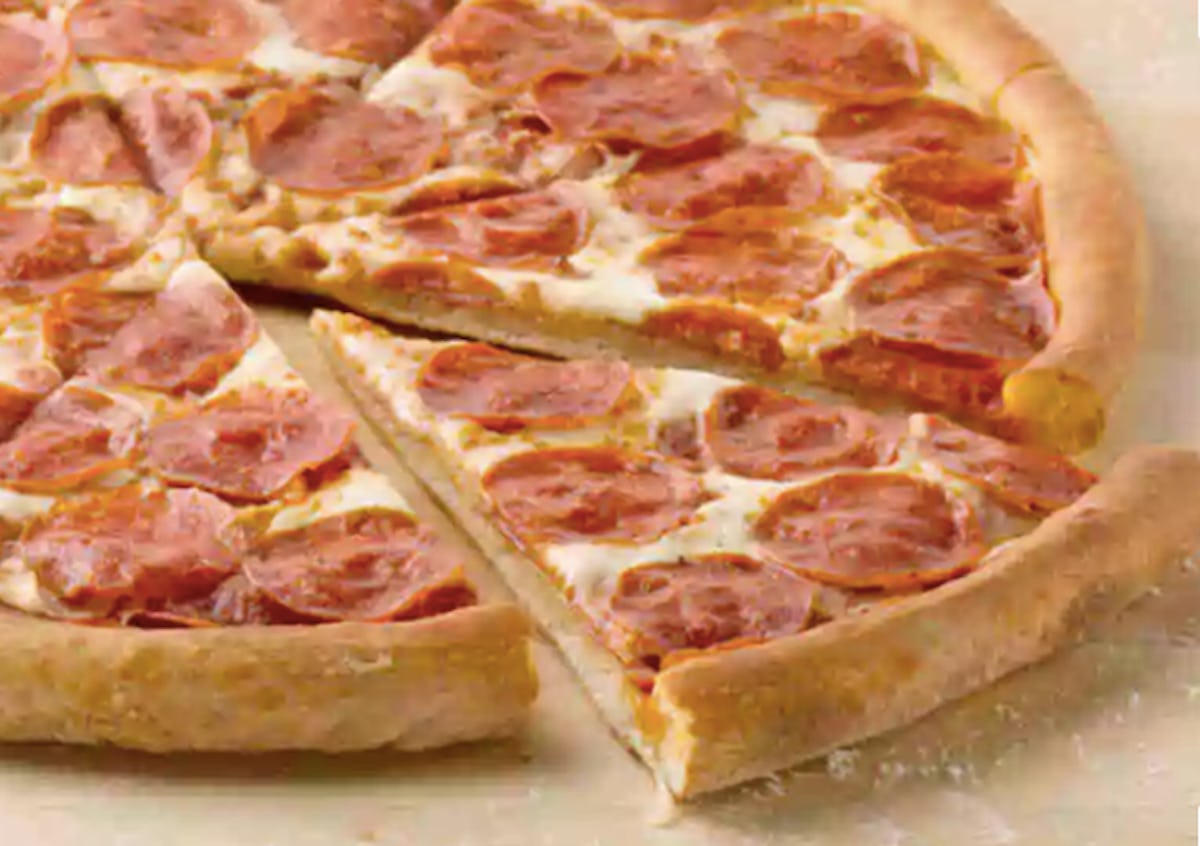 You Can Get Free Pizza For A Year When You Buy A Mattress From This Company
As a self-proclaimed sloth, I love to sleep, and I love to eat. Since these are two of my greatest passions in life, you'd probably imagine that eating in bed basically makes me feel like I'm achieving nirvana... especially when the meal of choice happens to be pizza. And if you feel the same exact way, you should know how to get free Papa John's pizza when you buy a Raymour & Flanigan mattress. Like peanut butter and jelly, it's the perfect combination.
Since people most often move during the spring and summer months, according to U.S. News & World Report, there's a likely chance you're about to buy a new mattress. And if that does happen to be the case, I highly recommend trekking to Raymour & Flanigan for any and all of your bedtime needs. Aside from the fact that they have a pretty good selection of mattresses (I mean, they carry Tempur-Pedic, and that's like striking gold, right?), the real reason to go is because you can get free Papa John's pizza for a year just for buying a mattress, according to a press release. This deal will be valid between May 30 and June 13, so get your butt over there ASAP.
You're probably wondering why exactly buying a new mattress means you'll get free pizza for a year. Well, aside from the fact that it's just plain awesome, a spokesperson from the furniture giant explained in a press release that it's because pizzas are better off coming in a box, rather than mattresses. I honestly couldn't agree more.
In the press release, a Raymour & Flanigan spokesperson said,
Because mattresses shouldn't come in a box. Pizzas do. A mattress is something you should feel and experience firsthand. Additionally, every person is different, from body shape to body temperature. That's why we're focused on pairing each customer with the right mattress.
The benefits of getting in on this deal don't even stop with free 'za. According to the press release, if you do decide to buy a Raymour & Flanigan mattress, your purchase will also come with free next-day delivery, and even free removal of your old sleep set. Not only are you getting 365 freaking days of free pizza, but they also make everything super simple for you. And let's face it: That's kind of unreal. The store also has over 120 locations, so you'll definitely have options. If you have any more questions, check out the Pizza Mattress website; it explains pretty much everything.
If you're not in the market for a new mattress, don't worry — Papa John's is loading customers up with all the freebies. In case you didn't already know, the pizza chain happens to be giving away free Donut Holes for National Doughnut Day. On June 1, customers will be able to score a free order of Papa John's brand new Donut Holes just by ordering a pizza online. Literally, it's that simple — and since donuts are one of life's greatest pleasures, this is an absolute necessity. You know for a fact I'll be chowing down in my bed.
Sometimes, mattresses will come with a complementary mattress topper, or maybe even a pillow or two (if you're really lucky). But in my 24 years of life, I have never seen or bought a mattress that came with a year's supply of Papa John's pizza. I'm absolutely thrilled that Raymour & Flanigan recognizes the two greatest things in life, and for that, I am eternally grateful. BRB, I guess it's time for me to go mattress shopping now.