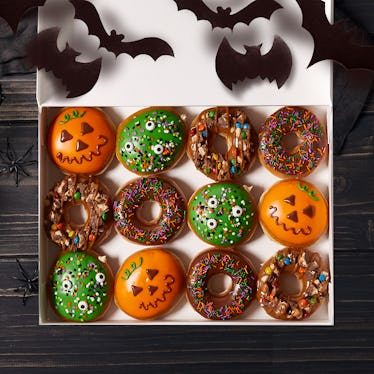 It's So Easy To Get A Free Krispy Kreme Doughnut On Halloween This Year
Courtesy of Krispy Kreme
If you ask me, nothing pairs better with the perfect Halloween costume than free food. I mean, you do get all that great candy for simply knocking on the door and saying, "Trick or treat," when you're a kid. So, why shouldn't you be treated to some complimentary goodies when you're an adult? One doughnut chain is here to make sure that you're not without some perfectly-themed sweets this holiday. Here's how to get free Krispy Kreme doughnuts on Halloween, because you deserve it.
The good news is that it's super simple to get in on the free doughnut action at Krispy Kreme on Halloween, aka Wednesday, Oct. 31, 2018. Plus, if you really miss the all-out dress-up days of your childhood Halloweens, you'll be glad to know that you can recapture that magic thanks to Krispy Kreme's offer. You see, all you need to do for one free doughnut of your choice is wear your Halloween costume to participating U.S. Krispy Kreme shops on Oct. 31, and whatever doughnut you crave is all yours, per a Krispy Kreme press release.
Calling it the "ultimate costume party," Krispy Kreme is prepared with plenty of perfectly-themed doughnuts to choose from, including two new Halloween offerings: the Trick-or-Treat Doughnut and the Monster Batter Doughnut.
TBH, either of them would be a great choice for your free Halloween confection.
The Trick-or-Treat Doughnut is an Original Glazed Doughnut dipped in salted caramel, topped with delicious chocolate candies (like mini M&Ms), and then finished off with a drizzle of even more salted caramel. You probably remember that little Halloween ditty that goes, "Trick or treat / Smell my feet / Give me something good to eat..." Well, this Trick-or-Treat Doughnut definitely qualifies as "something good to eat."
Are you into more of a spooky vibe? Go ahead and grab a Monster Batter Doughnut filled with cake batter filling. Green slime-colored icing, monster "eyes," and colorful confetti sprinkles top off this treat that is beyond fitting for Halloween.
If you think you're excited about the chain's new doughnuts for the spooky season — which are available from Oct. 8 through Oct. 31 — just look at how Alison Holder, Vice President of U.S. Marketing for Krispy Kreme Doughnuts, shared the brand's enthusiasm for the treats. In the release, Holder said,
Our newest collection brings the fun-filled spirit and delicious flavors of Halloween, creating an unexpected treat option for celebrations all month long. No matter what your Halloween plans or cravings are, Krispy Kreme has the perfect spooky treat.
It's not only new Halloween creations that you can choose from on Oct. 31 for your free doughnut. You can also enjoy returning classics like the Jack-O-Lantern Doughnut and the Chocolate Iced Doughnut with Halloween Sprinkles. The Jack-O-Lantern Doughnut, per a 2015 press release, has a "Kreme" filling and is topped with orange-colored icing and a decorated jack-o-lantern face. And the Chocolate Iced Doughnut looks to be a festive version of Krispy Kreme's year-round Chocolate Iced Glazed with Sprinkles Doughnut, thanks to green, purple, orange, and brown sprinkles, of course.
No matter what your flavor or themed-color preferences are, there is sure to be a Halloween doughnut to satisfy your palette throughout the spooky season at Krispy Kreme. Just remember to get there in your full costume on Oct. 31 for your free doughnut, because Krispy Kreme is all about the treats this year.