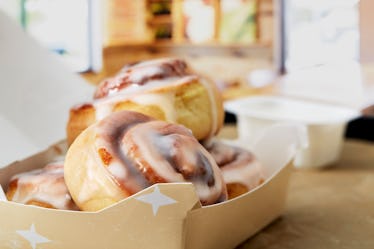 You Can Now Get Free Burger King Cini Minis On Grubhub For A Totally '90s Treat
BURGER KING
Listen up, '90s folks, because a favorite childhood treat from Burger King is making its way back into your life, courtesy of Grubhub. If you were one of the 2,363 people who's signed the Change.org petition called "Demand Burger King bring back Cini-Minis," you're in luck, because the food gods are answering your prayers — at least for a limited time. Cini Minis are officially back through the end of 2018, so here's how to get free Burger King Cini Minis on Grubhub for the tastiest dose of nostalgia.
On Wednesday, Nov. 28, hungry customers can head to Grubhub.com to get their hands on the tiny warm, gooey cinnamon buns that everyone loved in the late '90s. TBH, I'd all but given up hope that I'd ever get to treat my tastebuds to the BK treats, which promised the "best part of the cinnamon roll (the center) in every bite." On April 27, 1998, Burger King first teamed up with Pillsbury to create the mini cinnamon rolls that dreams are made of. According to a press release at the time, the bite-sized creations were "baked fresh daily on the restaurant premises" and "served hot with a side of icing so customers [could] have it 'their way.'" Back then, a four-piece serving of Cini Minis was available for purchase for just 99 cents.
It's been 20 years since then, and people are still so salty that Burger King did them dirty and removed the beloved treat from their menus.
Luckily, the holidays are a time for miracles, and the purveyors at Burger King and Grubhub have teamed up to gift you the ultimate throwback snack with your BK order, according to press materials. To get your hands on a 4-piece Cini Mini for free, simply order least $10 worth of delivery food from Burger King on Grubhub and choose to add the Cini Minis to your order as you're checking out. Considering that four of BK's Cini Minis cost 99 cents back in 1998, you're getting a good freebie even without the cost of inflation factored in. Let's be real, though, I'd pay $10 just to have these bad boys delivered to my door.
If you don't want to live that delivery life, though, you can also purchase Cini Minis in Burger restaurants as of Thursday, Nov. 29, for a limited time, according to Burger King.
Unfortunately, all good things must come to an end, and Burger King's Cini Minis' comeback is only temporary. According to press materials, the Grubhub Cini Mini offer is only available until the end of the year, meaning that you'll be left without the nostalgia-inducing confection once more when 2019 comes around.
Still, people are completely losing it now that that Cini Minis are back in action. TBH, this might be the best news I've heard all year.
Unfortunately, the Grubhub offer is currently only available in the 32 states that offer Burger King delivery, so I'd check to make sure that you're eligible before ordering away to your heart's desire. It's always Cini Mini o'clock, and there's never been a better time to treat yourself with the flavors you know and love from your childhood.
Editor's note: This post has been updated to reflect that Cini Minis are also available in Burger King restaurants for a limited time.