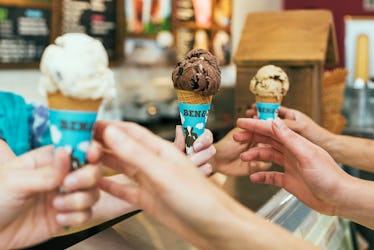 Ben & Jerry's Is Giving Away Free Ice Cream Cones Today, So Get Stoked
Ice cream lovers unite, because the holiest of holy ice cream producers is giving away one free scoop of the beloved creamy treat to consumers who visit their Scoop Shops today — and you don't want to miss it. Ben & Jerry's, the Vermont-based frozen dessert maker, is giving out one free cone on Tuesday, April 10 to customers who visit one of their participating locations around the world. If you're wondering how to get free Ben & Jerry's ice cream in honor of Free Cone Day 2018, we are here to help you out.
This year kicks off the 40th Free Cone Day in Ben & Jerry's history — and let's just say we are forever grateful it's become such a longstanding tradition, because free ice cream is a real blessing. The ice cream manufacturer said that most locations are participating, so check with your local Ben & Jerry's store — but you'll have to act quick. Free scoops and cones are available from noon to 8 p.m. local time.
To accommodate frozen dessert lovers of all types, Ben & Jerry's offers a variety of cold treats including frozen yogurt, non-dairy, sorbet, original ice cream flavors, and their recently launched line of light ice creams known as Moo-Phoria™. Customers can choose from one of the Scoop Shop's 35 flavors (varies by location) including six new flavors, according to the company's website:
What's the inspiration behind Ben & Jerry's Free Cone Day? We aren't here to ask questions because, again, free ice cream — but for anyone wondering, here's the scoop: In 1978, Ben & Jerry's started giving away free ice cream once a year as a way of saying thanks to their customers after successfully launching their first location inside of a renovated gas station in Burlington, Vermont. Throughout its four decades of existence, the chain has brought its cool and tasty flavors to stores all over the world in places such as Europe, Asia, Israel, Canada Mexico and the Caribbean. In fact, the first global Free Cone Day was started in 2000. Isn't it nice to know that your ice cream loves you back?
Ben & Jerry's is an ice cream you can feel good about eating, too. The company touts that their pints, quarts, mini-cups and Scoop Shop flavors are all made with non-GMO ingredients.
So, what are you waiting for? Ben & Jerry's is giving out more than a million scoops around the world, so grab a co-worker and indulge in a scoop (or two) of ice cream during your lunch break. Or, swing by your local Scoop Shop this afternoon to take advantage of Free Cone Day. Remember, it is going to be a whole 'nother year until your next free fill up!