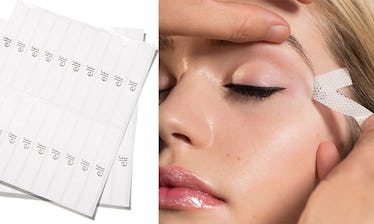 This $2 Product Is The Perfect Hack To Scoring Straight Eyeliner & It's Not What You Think
I wear eyeliner almost every day, and after years of practice, I still wonder how to get a perfect cat eye. Getting a straight, even line every time — not to mention one that looks identical to the one on my other eye — is no easy feat, no matter how much practice you get. Some days you just nail the look and other, you end up walking out of the house looking like a panda (and that's OK, because pandas are cute AF). For those days when your cat eye just won't cooperate, the affordable beauty brand E.l.f. Cosmetics created a product that helps you create a straight line no matter how much of an off day you're having.
Because E.l.f. Cosmetics understands the daily struggle, they created these new single-use tape strips that work as a guide for your eyeliner. They posted on their Instagram a photo of a model with a strip of tape against her eye and the caption, "still perfecting the art of a flawless wing? It's about to get a lot easier thanks to our NEW Line & Define Eye Tape ($2) which helps create defined, angular looks! Shop now on elfcosmetics.com!" I have a feeling these will sell out quick, so I need to get my hands on these ASAP!
The next time your hands refuse to cooperate, slap on a strip of E.l.f.'s new Line & Define Eye Tape ($2; elf Cosmetics) to nail the perfect wing. To hack the straightest cat eye, line up the strip of tape from the outer corner of your eye to the end of your eyebrow — this not only gives you the best angle, but it also works as a guide to ensure that both eyes are completely symmetrical.
Use a liquid, gel, pencil, or pen eyeliner to draw on your cat eye. Just follow the guide you created with the eye tape for a professional-looking wing, stopping around the crease of your lid.
Now all that's left to do is peel the tape off. Since this tape was created specifically for this purpose, it has just the right amount of tackiness for creating the perfect cat eye. I've used household tapes in the past and some either tug too much on my skin or don't give my a clean edge (the eyeliner can seep through).
Peel the strip off from the inner corner of the eye outward to avoid pulling on the delicate eye area. I love that this tape doesn't peel off the makeup you're wearing underneath. Nobody is going to be looking at your cat eye if you have a strip of foundation missing.
If for some reason you do mess it up (which I highly doubt you will), the tape helps you lay most of the ground work for you. Once you've created the perfect flick, you can clean up any jagged edges or shorten any wings that might've gotten too long with a makeup-remover soaked Q-tip. But as E.l.f. posted on their Instagram, "Perfect 👏 wings 👏 every 👏 time 👏! Our NEW Line & Define Eye Tape ($2) makes #flawless eyeliner fool-proof."
As if it can't get any better, two dollars will get you two sheets of twenty strips — that's less than the price of your morning coffee. A single purchase will get you twenty perfectly straight cat eye looks and I can't think of a better way to spend your hard-earned cash. In case a classic black-winged cat eye isn't exactly your style, you can use the new Line & Define Eye Tape to create eyeshadow looks too. Who knew Instagram-worthy makeup could be so affordable and easy to achieve?