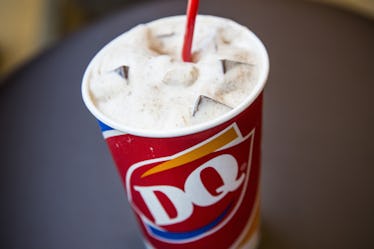 Dairy Queen's End-Of-Summer BOGO Deal Features Your Favorite Sweet Treats
Andrew Burton/Getty Images News/Getty Images
When non-students hear "back to school" most people just tend to think of going returning to classes. However, as a semi-recent college graduate, I know "back to school" also means going back to zero free time, as well as going back to being consistently broke. Back in my student days, between summer and fall semester, I usually worked as a lifeguard at the local YMCA. In the fall, I'd return to school with very little time to spare for a job. So, if you're looking to stay cool on a budget for the start of school, here's how to get a free Dairy Queen milkshake, thanks to the brand's sweet BOGO deal. Your wallet will be eternally grateful.
The end of August brings unbearable heat, and enjoying some ice cream is kind of inevitable. Luckily, Dairy Queen is offering the single most clutch deal of the season, by doling out BOGO small sundaes, malts, and shakes of any flavor. While the sundae is limited to a small size, you can grab any size you want of the malts and shakes in the deal. Per Thrillist, you can get in on this offer when you download the DQ mobile app and navigate to the "deals" section to seal the deal. As of Aug. 29, you have until Sept. 2 to do so, so make sure you get your fill of frozen dairy before the time passes. You'll definitely be craving a sweet treat after move-in day, and especially during syllabus week. I can guarantee it. And you don't even need to be headed back to school to enjoy this BOGO deal through the Labor Day weekend.
Before you make the trek all the way to the queen of dairy, however, make sure your local joint is offering the deal. According to Thrillist, it's available at participating Dairy Queen restaurants nationwide, with the exception of locations throughout Canada, as well as Texas. Hopefully, your local location is BOGO-ing it up. If you live in Canada, however, you might be lucky enough to win an entire year of free blizzards, according to Thrillist, so you really aren't missing out on too much (if you do actually end up winning, that is).
Oh, and I haven't even gotten to the very best part. If you don't already have the Dairy Queen app downloaded to your device, you also get a free small Blizzard when you sign up for an account, according to Food & Wine. So, if you do during BOGO week, you'll end up with a free Blizzard, and then a BOGO treat for the next time you pay for one. If you're a frozen treat fan like myself, that all sounds pretty darn good.
I don't know about you, but I'm kind of a sucker for any and all frozen desserts. When summertime hits, buying ice cream is totally unavoidable, and going back to school can really take a toll on your bank account. While paying for coffee and school supplies can amount to a lot, Dairy Queen is covering your frozen dairy purchases, and for that, I am forever grateful. Prepare your dessert stomach, and get ready to go HAM on all of the milkshakes, sundaes, and malts this week. The end-of-summer heat has seriously never tasted this good.