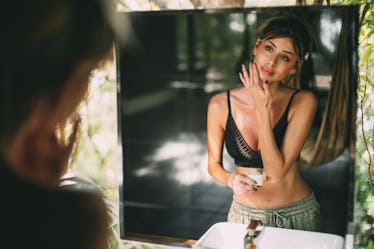 7 Women Reveal What Makes Them Feel Sexiest When They're Alone
A common misconception is that you can only truly feel sexy when someone else makes you feel sexy. Well, I'm here to tell you from personal experience that that couldn't be further from the truth. I've found plenty of ways to make myself feel sexy that have absolutely nothing to do with anyone else or my relationship status. They're things I do for me. And, according to a recent Reddit AskWomen thread, I'm not the only one who knows how to feel sexy without a partner.
In fact, in the thread, six women got totally candidate about the ways in which they go about making themselves feel sexy and, TBH, I highly recommend we all do ourselves a favor and try their methods out. Even if they don't successfully make you feel like your absolute sexiest self, they all — at the very least — sound like fun confidence-boosting exercises. The way I see it, everyone deserves to feel sexy. Just like happiness, sexiness, and contentment, sexiness is one of those wonderful feelings life has to offer that we all deserve to experience at one point or another. So why wait around hoping that someone else is going to make you feel that way?
Instead of doing that, try reading the below responses for tips on how to make yourself feel sexy. And if none of the ideas below get your engines going, no worries — there's no one "right" way to feel in touch with your sexuality. Keep exploring, and you never know what you might find.