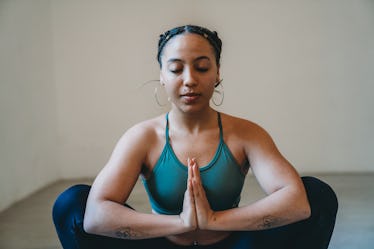 Here's Why Clearing Your Chakras Is Just What You Need Post-Breakup
FilippoBacci/E+/Getty Images
A tough breakup can leave you feeling depleted. Not only are you adjusting to singledom, but you're also probably re-imagining your future without your ex in the picture. No matter who ended the relationship, it's easy to feel bogged down by confusion and "what ifs" in those first few weeks and months post-split. To help you heal, consider clearing your chakras after a breakup to help get rid of any negative vibes.
Chakra is a Sanskrit word meaning "wheel" or "disk," and it represents an energy center within the body. Ancient Indian meditative practice asserts that people have seven different chakras, each one connected to a different body part and divine energy. "They are also affected by our psychological, emotional, and spiritual states of being," says holistic dating coach Kate Dreyfus. When your chakras are open and receptive, they help you accept new love and happiness in your life, but if they become blocked by negativity, they trap those bad post-breakup feelings and make it harder to move on. Dreyfus explains that clearing your chakras can "help to uplift you above any heaviness you're going through during a breakup."
Discerning which one (or more) of your chakras is off-balance can be challenging. Dreyfus says the key is listening to your body and your emotions. "Depending on what your mental state, emotional state, physical ailments, and vitality levels are, these can help direct you to what chakras are possibly blocked," she says. She suggests paying close attention to yourself and remembering to show yourself kindness as you work through this difficult time.
Here's what each chakra represents, how you know it might be blocked, and what you can do to clear it and put the past behind you.