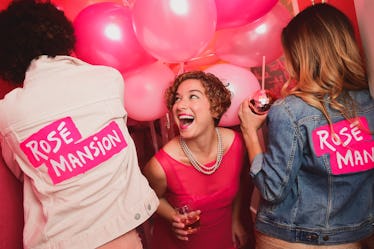 The Rosé Mansion Is Hiring A "Mansion Ambassador," So Get Your Resume Ready
Rosé Mansion
Everyone and their mother knows that rosé is a pivotal part of summertime (that's simply a fact of life). So as you'd imagine, fans of the pink drink are anxiously awaiting the Rosé Mansion's grand opening in New York City next month. But if you dream about sipping and discussing rosé (literally) all day, the Mansion is actually hiring right now. Here's how to be a Mansion Ambassador at the Rosé Mansion if that would, in fact, fulfill all of your wildest dreams.
Unfortunately, the Rosé Mansion won't be around forever and ever — but it'll be here all summer long, and that's all that really matters. According to the press release, it's going to be a 90-day pop up that's set to officially open in July 2018 on Fifth Avenue in Midtown, Manhattan. Guests will be able to taste wine from around the world, and as the mansion's website explains, "each room will transport you to a different place and time." You'll be able to taste different kinds of rosé, explore interactive photo opportunities, and even learn about the scientific process behind creating it. TBH, it sounds like my ideal hangout spot.
Most importantly, it looks like my dream workplace — and luckily, they still have openings for Mansion Ambassador positions.
To apply to be a Mansion Ambassador, just navigate to the "Jobs" section on the Rosé Mansion website. Click "Apply for this Job," and you'll be encouraged to create a short YouTube video that explains why you want to work for the Mansion, as well as a special skill you could bring to the team. After filming the video, you'll paste the YouTube link into the application below, hit "Submit Application," and voila! It'll be on its merry way. I told you: Applying is quick and painless, so why not give it a whirl?
Once you become a Mansion Ambassador, you will simply lead groups of 21-and-up rosé fans through the Mansion while showing your enthusiasm for the brand. You'll also get to drink a ton of rosé, and you'll even receive "Weekly Wine Education." They want communicative team players, fast walkers, and anyone with flexible daytime availability from July through October. This might actually be the best summer job imaginable, so I'd apply, like, now.
If you'd rather be a guest at the Rosé Mansion (as opposed to an employee), getting in is super easy. According to the press release, just buy a ticket for a specific date and time ahead of time. General admission is $45, and Happy Hour (which is on weekdays until 4:30 p.m.,) costs $35. However, until June 17 at midnight, all tickets are $35. So get on that glorious deal while it lasts, people!
According to the press release, each Rosé Mansion ticket includes entrance into the Mansion, as well as several wine samples, a Rosé Mansion GoVino wine glass, and even a Rosé Mansion Collectable Enamel Pin. If you get hungry (which, let's be real, I know I will), snacks are available for purchase in the Grand Tasting Lounge. If you want to take anything home, additional souvenirs will be available as well. As you'd probably expect, entrants must be 21 years of age and present a valid ID. Just follow the rules, and you'll be OK.
Working at the Rosé Mansion would definitely fulfill my forever-fantasy of traveling and drinking wine for a living. And even though it would only be for the summer, it looks hella worthwhile. I'll probably have to muster up every last bit of interpersonal skills I that can — but once I'm able to do so, I know I'll be queen of the Rosé Mansion Ambassadors, LOL. As they say, pink dreams are made of these, so who am I to disagree?