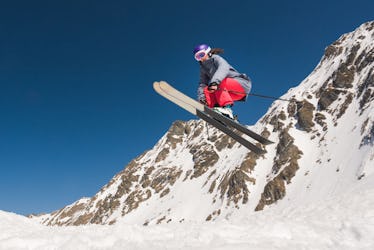 This Job Will Pay You To Travel To 7 Different Countries & Go Skiing
From a relatively young age, I always thought it'd be incredible to ski for a living. Unfortunately, there were a couple things holding me back. I mean, I definitely can't compete with Lindsay Vonn, and my thinner-than-ice patience kind of eliminates instructing as a potential career opportunity. My dream job came rushing back to me, when I saw that Ski.com and Epic Pass teamed together to post the job opportunity of a lifetime. So, if you think you might be interested in skiing all winter long, here's how to apply for Ski.com's "Epic Dream Job." It looks far out, man.
What does the Epic Dream Job entail, you ask? Well, according to the job posting on Ski.com, Epic Pass and Ski.com are currently looking for one snow-lovin' skier or snowboarder who would be hired travel the world's best slopes via United Airlines. The winner will travel to seven countries and three continents between January and February 2019. While abroad, the lucky candidate will shred through 18 destinations that are available on Epic Pass. In Canada, you'll check out British Columbia's Whistler Blackcomb and Fernie ski resorts. Slopes in Breckenridge and Vail in Colorado will be part of the U.S. leg of the trip, and you'll also go abroad to spots like the Courchevel resort in the French Alps, per Travel + Leisure.
To apply, simply make a 60-second video explaining why you're the perfect candidate, post it on social media, and use the hashtag #EpicDreamJob. As long as you do it between Sept. 5 and Oct. 15, 2018 (the deadline), you'll be eligible for the position, which will be announced on Oct. 30. It's literally that easy.
The chosen candidate will get paid a total of $10,000 for the entire two months, according to Ski.com, and if that wasn't enough, they also receive an entirely new winter wardrobe. The Epic Dream Job winner will receive a trunk-load of sweet gear, which includes equipment from Helly Hansen, Rossignol, Oakley, and GoPro. The winner will also have a direct line to custom snow forecasts from OpenSnow. Yeah, it sounds lit, and I'm already jealous of whomever wins. Seriously, if you aren't already motivated enough to apply, check out this epic YouTube video about the job.
In a press release, Dan Sherman, the Chief Marketing Officer of Ski.com, said the company is excited to hire an adventurous person to not only represent several brands, but to also essentially travel around the world on skis.
In the press release, Sherman shared,
We are excited to partner with the Epic Pass and other iconic ski and travel brands to hire an adventurer who will highlight what it's like to literally travel around the world on a single ski trip.
It sounds so cool, doesn't it?
On the other hand, maybe getting paid to enjoy your number-one winter sport isn't your vibe as much as getting paid to eat your favorite food is. That's cool, because you can actually get paid to eat avocados. The Hass Avocado Study, or the Habitual Diet and Avocado Trial will legitimately pay you a couple hundred dollars to eat a free avocado every day for six months. It's going to be held at Loma Linda University, and to apply, you'll fill out a survey on the study's website. If I were you, I'd apply now, because the study is getting super full. I mean, how could it not?
Getting paid to do what you truly love is a semi-foreign concept to many people, and the chance to get paid to ski around the world for two months is honestly amazing. TBH, I hope none of you apply, because I seriously need this Epic Dream Job. Let the games begin.