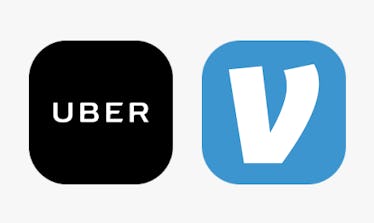 You Can Finally Use Venmo On Uber, So Paying For Rides Is Gonna Be So Easy
Amanda Fama/ Uber Screenshot
You have to admit: It's kind of a hassle to get your credit card out to update expired payment methods on your phone — especially when you're in a rush. I've definitely found myself frantically updating my account number on car service apps before hailing a ride, and it's not fun. Thankfully, Uber resolved this problem by adding Venmo as a payment method on its app. Now, all you need to do is connect the easy-to-use money service to the ride-sharing platform, and voila! You're good to go. Those of you who use Uber on the reg are probably wondering how to add Venmo to your Uber account. Believe it or not, it's super easy to do.
Before I dive into details, let's start from the top. Venmo officially announced the much-needed collaboration via email on Sept. 6, and linked to an Uber webpage that explains how to integrate the apps. Uber's instructions are super easy, and the app will show you how to add Venmo as a payment method in a matter of seconds. (I'm not kidding. I just added it, and the process didn't even take a minute.)
Get your phones out, everyone. It's time to make Ubering even easier than it already is.
In order to add Venmo as a payment on your Uber account, go ahead and open your Uber app. Once you've done so, hit the menu button in the upper lefthand corner of your screen. There, you'll see your name, rating, and various account options. Click on "Payment" to start the Venmo process.
Once you hit "Payment," you'll see a list of existing payment options that you currently use to compensate your driver. At the bottom of the list, you'll see an "Add Payment Method" button. Press that, and you'll be taken to the next page.
FYI, The next page should look like this:
Now, you'll have to hit the "Venmo" option in order to add Venmo to your Uber account (duh). After you've done so, you'll have to give Uber permission to open Venmo. Then, you'll be taken through a few steps to verify your identity and bank account information before authorizing the app.
This should be the final screen you see before the process is complete:
Once you get there, hit "Authorize" — and you'll be all set! To ensure you've added Venmo correctly, head back to your "Payment" page on Uber and make sure it's an option in your list. If it is, congratulations. You can now pay for your Uber rides with Venmo.
Once you've successfully integrated the two apps, you can even split Uber fares with friends through the Venmo app. Additionally, you'll be able to use custom Uber emojis in your Venmo feed, which will make the experience even more enjoyable.
That's not where the fun ends, though. You can also add Venmo to your Uber Eats app, which will make it so much easier to pay for your takeout. In order to do so, follow the same exact steps that you would follow to add Venmo to Uber. Then, you'll be able to pay for your food without the hassle.