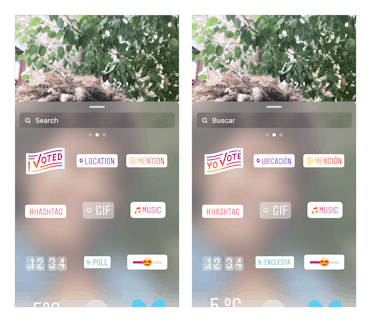 It's So Easy To Add Instagram's "I Voted" Sticker To Your Story For The 2018 Midterms
On Tuesday, Nov. 6, millions of Americans will head to the polls and cast their vote in the 2018 midterm elections. In honor of Election Day, Instagram is releasing a new "I Voted" Sticker for your Story. This way, you can share your excitement and let everyone know that you've cast your vote in what's been called one of the most important elections in recent history. Here's how to add Instagram's "I Voted" sticker to your Story for the 2018 midterm elections.
For starters, make sure your Instagram app is up-to-date. Head on over to your phone's app store and download the latest rendition of the app. The "I Voted" sticker won't be available to use until Sunday, Nov. 4, but it never hurts to make sure you are all set up and ready to go. Voting with a group of friends? Instagram has you covered, too. The social media app company is also rolling out a "We Voted" sticker for your Stories.
It's time to let the world know you've voted. Go ahead and open the Instagram app on your device. To open up your Story camera, swipe to the right or tape the camera icon in the upper lefthand corner. If you're at the polls, tap the arrows located on the lower righthand portion of your screen to flip the camera into selfie mode. Press the big white button in the bottom center of the screen to take a pic.
If you previously took a picture and want to add it to your story, tap the square white outline in the lower lefthand corner. This will open up your camera roll. Select the photo of yourself you'd like to upload.
Next, it's time to add the "I Voted" sticker to your selfie. Tap the smiley face icon that's located in the upper righthand corner of your Story photo. You should see the "I Voted" or "We Voted" sticker appear in the tray. Just click to add whichever one best suits your pic. You can move the sticker around and place it wherever you'd like. Oh, and if your phone language is in Spanish, you'll see the "Yo Voté" version of the sticker in your tray, according to Instagram.
One of my favorite things about voting in person is getting that coveted "I Voted" sticker that poll workers hand you after you scan in your ballot. I always snap a picture of myself after voting, with the sticker front and center. Pictures or it didn't happen, amirite? If you didn't get one for whatever reason, you can still show off your patriotism on social media thanks to Instagram's "I Voted" sticker.
This year, I was sent a mail-in ballot. While I'm 100 percent behind mail-in ballots (because it makes voting so convenient), it's not nearly as fun as actually going to your designated polling location and bubbling in a ballot. I submitted a mail-in ballot for the primaries over the summer, but for the midterm elections, I went to the polls on the very first day of early voting in Florida. Alas, I got my actual "I Voted" sticker. With Election Day less than a week away, I'm thinking I may need to repost my voting pic to my Story now so I can use Instagram's "I Voted" sticker.