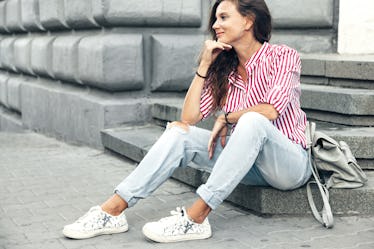 Here's Exactly How To Wear Sneakers With Literally Every Outfit This Fall
Alena Ozerova
If it were up to me, I'd dress in shades of fleece, spandex, and cotton for every situation. But because life is more than just a jog in the park, I unfortunately can't.
Here's the good news, though: While athleisure won't exactly cut it when it comes to work or formal occasions, you can inject a little bit of sporty comfort into pretty much any look by adding the perfect pair of sneakers.
Yes, you read that right. Your go-to footwear for your morning jog can actually look good with most non-running outfits — you just have to know the rules.
Lucky for you, Elite Daily teamed up with adidas to bring you the official guide to rocking sneakers with every type of fall lifestyle outfit. Whether you're heading to the office or going on a cocktail date, adding a versatile pair of adidas Pureboost Go kicks will keep your feet happy all day (since they're built for intense workouts and long runs), not to mention elevate your look with an extra boost to your style.
So say goodbye to uncomfortable heels, suffocating boots and impossible-to-break-in clogs, and read on to usher the era of The Sneaker into your life (and into your closet).
1. With A Work Outfit
Whether you work in a formal office or a ~modern workspace~, we promise can find a way to squeeze a pair of running shoes into your daily look.
Here's the trick: Don't let the pendulum swing too far in the athleisure direction — dress up your overall look by keeping it mostly professional, giving your accent footwear the opportunity to steal the show.
2. With An LBD
Think you have to ditch your running sneaks just because you have a fancy date night planned? Think again.
A cute pair of sneakers is the perfect way to upgrade your little black dress, which, let's be honest — could probably use a bit of shaking up at this point. Accessorize with a bold lip color or a statement hat for a totally unexpected take on a classic look.
3. With A Brunch Outfit
We believe that brunch isn't just about Bloody Marys and eggs Benedict; it has the potential to be a serious fashion moment — if you're brave enough, that is.
You heard it here first: Brunch is the time for statement sneakers.
Keep the rest of your ensemble simple and chic with leather leggings, a bomber jacket, and a soft white tee.
4. With A Travel Outfit
When it comes to travel, we're all about the basics: sneakers, worn-in jeans, oversized denim jackets and a shoulder bag that looks good with everything.
No matter if you're embarking on a road trip or boarding a red-eye flight, this classic ensemble will keep you comfortable and cute while in transit.
5. With A Festival Outfit
Festival fashion is a tough style to get right, but one thing's for sure: You can't go wrong when you start with a reliable pair of running shoes.
Stay prepared for unpredictable fall weather by layering with denim and flannel on top and sticking to shorts on the bottom. You'll stay warm and comfortable, and are sure to stand out from the crowds.
Talk about a win-win-win situation.
This post is sponsored by adidas.