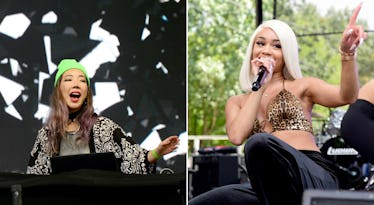 These 2 'Made In America' Artists Got Real About What It Takes To Be A Woman In Music
Getty Images for Roc Nation
The music industry is a tough one to break into. Ask any artist to explain their journey and they'll mention the hustle and dedication it takes to succeed. At a festival like Made In America, which went down on Sept. 1 and 2 in Philadelphia, Pennsylvania, you get to experience dozens of eclectic artists, and a couple of them gave more than just an awesome performance on stage. This advice for women in the music industry from two of those fierce Made In America artists proves individuality and fearlessness are super important in catching that big break.
Not many people get to experience the IRL version of their favorite artists to ask them what it's like to break into an industry like music production. Going to concerts or simply listening to their music on YouTube is the only connection they'll ever get. I got the lucky chance to attend the festival with Abercrombie & Fitch, and I spoke firsthand to Saweetie and TOKiMONSTA, two of this year's performers, about what it's like to be a woman in music. Although the two hold different roles in the industry, their solid advice applies to any aspiring woman looking to make their mark. I would even go as far as to say that their advice can apply to any goal you're trying to achieve.
Jennifer Lee, also known as TOKiMONSTA, is a DJ who has been producing music for over five years. As you can imagine, her field is very male dominated, but that didn't stop her from debuting Midnight Menu in 2010 and putting herself on the map. Aside from a unique style that sets her apart, her advice reveals how she has stayed true to herself in this industry. "I think my major piece of advice would be not to be intimidated," she tells me in an exclusive interview for Elite Daily.
If you are talented, and if you see it through and you have the drive, then you can do anything.
She continues, saying, "I know that a lot of times it can seem very daunting to enter music, especially if you're entering from my angle, which is like you're producing and DJing and things like that where it's very male dominated, it can seem very much like an area that you might not have the best odds in." However, she says, "But, if you are talented, and if you see it through and you have the drive, then you can do anything."
She also tells me that everyone is their best person and people should just be whoever they want to be. I mean, can I get this printed on a wall decal for my room? The inspiration was so real, and her following performance expressed how much her heart is truly embedded in her craft.
With social media and the internet in general, instant fame (even 15 minutes of it) is becoming easily accessible. Rapper and songwriter Saweetie advises against the quick way of getting acknowledged in this industry. Don't let this deter you from perfecting your selfie game on the 'Gram, though.
The "Icy Grl" rapper reveals, "I would definitely not take shortcuts 'cause I feel like it's the internet age and sh*t's just always popping back up." She continues to say, "So just believe in yourself and just trust in God and pray about it."
The two-day Made In America festival took place right below the iconic Rocky steps, which are a classic inspirational landmark. So ladies, stay true to yourselves, keep climbing towards your dreams, and knock it out of the park when you get your chance.