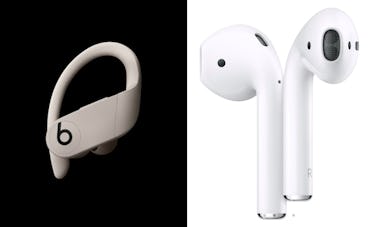 This Major Difference Between Powerbeats Pro & AirPods Might Help You Decide Which To Get
Wireless earphones are all the rage, and a few new versions of them have recently hit the market. If you're an iPhone user, then you probably know about the second-generation AirPods that became available in March. Yes, they're impressive AF — but it looks like a new selection of earphones are about to steal the AirPods' spotlight. I'm referring to Powerbeats Pro, which made their big debut on Wednesday, April 3. If you're currently deciding which earphones to choose, I'll help you out by showing you Powerbeats Pro versus Apple AirPods. Although they're pretty similar, there are a few differences between the two that might impact your decision.
Before I get into the nitty gritty, let's take a step back and evaluate the earphones situation (because there's a lot going on). On March 20, Apple officially announced its new AirPods via press release. The upgraded wireless earbuds boast a ton of new features that bring listening to the next level — but I'll get into those soon. Fast forward to April 3, and Beats released Powerbeats Pro earphones. As I previously mentioned, they possess many qualities that AirPods do, but they're still different in a handful of ways.
Let's get into it, shall we?