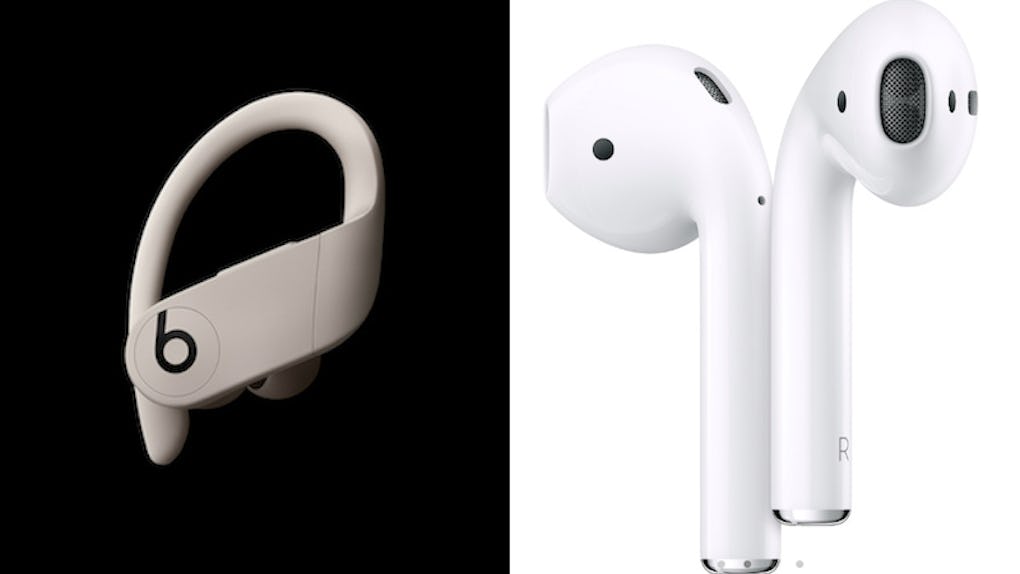 Beats/ Apple
Here Are Powerbeats Pro Vs. Apple AirPods, In Case You're Debating Which Ones To Get
Wireless earphones are all the rage, and a few new versions of them have recently hit the market. If you're an iPhone user, then you probably know about the second-generation AirPods that became available in March. Yes, they're impressive AF — but it looks like a new selection of earphones are about to steal the AirPods' spotlight. I'm referring to Powerbeats Pro, which made their big debut on Wednesday, April 3. If you're currently deciding which earphones to choose, I'll help you out by showing you Powerbeats Pro versus Apple AirPods. Although they're pretty similar, there are a few differences between the two that might impact your decision.
Before I get into the nitty gritty, let's take a step back and evaluate the earphones situation (because there's a lot going on). On March 20, Apple officially announced its new AirPods via press release. The upgraded wireless earbuds boast a ton of new features that bring listening to the next level — but I'll get into those soon. Fast forward to April 3, and Beats released Powerbeats Pro earphones. As I previously mentioned, they possess many qualities that AirPods do, but they're still different in a handful of ways.
Let's get into it, shall we?
The Similarities
OK, I'll start with the biggest (and, in my opinion, the most important) similarity between Powerbeats Pro and AirPods. Believe it or not, both selections are powered by Apple's new H1 chip, which was unveiled in March 2019. According Apple, the new H1 chip helped upgrade its new AirPods by providing better wireless connections, "Hey Siri" capabilities, and more. Now that Powerbeats Pro earphones are running on the same chip, listeners will likely get a similar experience.
As could probably imagine, both wireless earphones have Bluetooth capabilities that make it possible to connect to your preferred devices. You can also talk on the phone using each option, which makes both earphones convenient for on-the-go convos.
In all, Powerbeats Pro and Apple AirPods are both top-notch choices when it comes to wireless listening and convenient calls. However, there are various differences that you should take into consideration before choosing which ones you want.
The Differences
Let's start with the main (and most obvious) difference: their appearances. With one glance at the Powerbeats Pro earphones, you can tell that they look super different than Apple's AirPods. Unlike AirPods, which boast a sleek white look, the Powerbeats Pro earphones are a bit bulky (in the best way). As you can see, they come with adjustable ear hooks that you can use to secure the earphones into place. They also come in four different colors, which include Navy, Moss, Ivory, and Black.
Therefore, if you're seeking sturdy earphones with a pop of color, opt for Powerbeats Pro. If you'd rather stick with the OG Apple aesthetic, choose the AirPods.
There are a few more details about the Powerbeats Pro earphones that are physically different than AirPods. According to Beats, Powerbeats Pro earphones are water resistant, while AirPods are not. But even though Powerbeats Pro earphones are resistant to sweat, I'd try not to drench them. Unlike AirPods, Powerbeats Pro have track and volume controls on them — and I wouldn't want to risk anything happening to those.
Another difference between Powerbeats Pro earphones and AirPods is the amount of listening time you'll get with each charge. According to Beats, Powerbeats Pro will give customers nine hours of listening time, while AirPods will provide five.
Speaking of charging, one *major* difference between the earphones is that AirPods come with a wireless charging case, while Powerbeats Pro earphones do not. With that being said, take your daily routine into consideration and figure out which option would best suit your needs.
As you can see, AirPods and Powerbeats Pro earphones are different in a ton of ways, but they'll have one more thing in common soon: Both will be sold in Apple stores and on Apple's website beginning in May 2019. Sure, AirPods are already available on Apple.com, but they'll be joined by Beats' newest creation soon enough.
Before they're both on sale alongside one another, make a pros and cons list to decide which ones are better for you. Are you someone who'd rather have water-resistant earphones that literally attach to your ear, or someone who'd rather stick with simple listening on slick AirPods? Regardless of which option you choose, I'm sure you won't be disappointed.