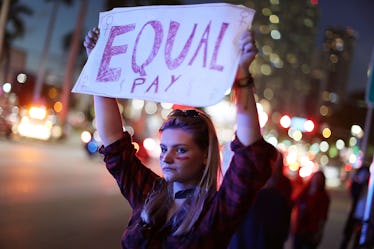 Here Are 5 Ways To Support Wage Equality On Equal Pay Day, Because It Matters
Joe Raedle/Getty Images News/Getty Images
Happy Equal Pay Day (not really). Tuesday, April 2 marks Equal Pay Day, which marks how far into a new year women have to work to make the same amount as men did in 12 months. Throughout history, women have faced pay discrimination in the workplace, and the problem is even worse for African-American, Latina, and other women of color. So, what are the ways to support wage equality on Equal Pay Day? You have quite a few options.
Equal Pay Day began in the United States in 1996 by the National Committee on Pay Equity (NCPE) as an effort to publicize the wage gaps between men and women in the workforce. Despite creating this day in 1996, women still make much less money compared to men in the workplace, which is often called a "pay gap." According to American Association of University Women (AAUW) women only make 80 percent of median earnings compared to men on average. However, that's for women overall — Latina and Hispanic women make only 53 percent of earnings, and African-American women only make 61 percent. The fight for equal pay has sparked movements such as #TimesUp, which addresses inequalities women face in the workplace such as sexual harassment and pay inequality, but the fight is far from over.
So, how can you celebrate Equal Pay Day? Lucky for everyone here, we've rounded up a list of ways that range from education to activism. So, make sure to take notes.