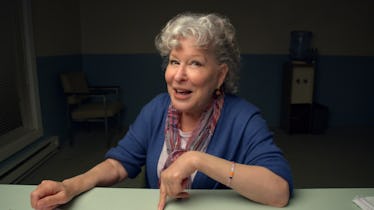 'Coastal Elites' Is The Quarantine Comedy We Need RN & The Cast Is Everything
HBO
HBO's Coastal Elites was not meant to be a series about the pandemic. Executive producer Paul Rudnick started working on the show's concept in 2019 for a live play at the Public Theater in New York City and adapted the story as the world changed around him. The resulting special, filmed via the video-conferencing software Zoom, sounds like one of the most timely and funniest series about the pandemic you can imagine. But when does HBO's Coastal Elites debut? And what can fans expect from it?
Coastal Elites is one of the first scripted projects to tackle the "new normal" of the coronavirus pandemic. Several production studios have series in production that will be "Zoom-based" or shot in a socially distanced manner, each telling stories about the world as it is right now. But HBO managed to get this one out first, with a filming schedule that began in June.
The short turnaround time also meant the scripts could be modified as world events dictated. For example, this started as a show about politics before becoming a show about the pandemic. Then, when the demonstrations against police brutality began, Rudnick folded that in too. This special is going to be one of the most topical scripted projects to hit the airwaves this coming fall.
As for the rest of the details, let's break them down:
This article was originally published on