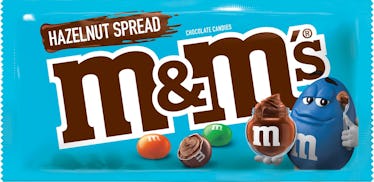 Nutella Lovers Rejoice, Because Hazelnut Spread M&M's Are Coming
Hazelnut spread, more specifically Nutella, is probably one of the most delicious condiments in the whole wide world. Can I call it a condiment? I'm not sure if that's the proper categorization, but I'm going with it. I put Nutella on pretzels, strawberries, peanut butter sandwiches, and enjoy the chocolate and hazelnut spread on just about anything. If you love Nutella as much as I do, you are going to be psyched to know that Hazelnut Spread M&M'S are coming to satisfy your Nutella cravings. That's right. The bite-sized chocolate candies are now going to taste like your favorite hazelnut spread.
On Tuesday, Sept. 25, MARS Incorporated announced that the Hazelnut Spread flavor will join the ranks of other M&M'S candies. Now, if you're already excited by this news, it gets even better. You might be waiting for me to drop a line or two about how Hazelnut Spread M&M'S are a limited edition product. Well, the good news is that they aren't going anywhere. The new flavor is a permanent addition to an already robust lineup of sweet tastes.
M&M'S Hazelnut Spread Chocolate Candies are not available just yet. They will be available nationwide starting in April 2019. You will not be able to miss them, either. The Hazelnut Spread M&M'S will be sold in teal packaging in single sizes (1.35 ounces), share size (2.53 ounces), and sharing size stand-up pouch (8.3 ounces), according to a press release from Mars, Incorporated.
Now, on to the must-know details: What these tiny treats taste like. According to Mars, Incorporated, the newest M&M'S candies will feature a hazelnut spread center and a crispy coating of melt-in-your-mouth milk chocolate on the outside. It basically sounds like the perfect marriage of hazelnut and chocolate. My taste buds are already going crazy for a bag of Hazelnut Spread M&M'S.
It's a big day for the M&M'S brand. Additionally, the candy company also announced that they would begin selling M&M'S Chocolate Bars. The sweet, shareable treats will be available for purchase starting in December, according to Mars, Incorporated. The new line up of M&M'S Chocolate Bars features five flavors including Peanut, Milk Chocolate, Crispy, Almond, and Crispy Mint, and will have M&M'S Minis throughout.
The industry is changing and consumer tastes are evolving. We're continuing to recognize and anticipate demand. We're excited to debut M&M'S Chocolate Bars and know that our M&M'S fans and chocolate bar lovers alike will appreciate the delicious taste that comes from our rich and creamy chocolate," Allison Miazga-Bedrick, senior brand director, M&M'S Brand, said in a press release. "We're equally passionate for the launch of M&M'S Hazelnut Spread Chocolate Candies next year. We're thrilled to deliver this new flavor with color and fun, in a way that only M&M'S can."
Hazelnut Spread M&M'S are a genius idea. So, kudos to the entire M&M'S team for blessing the world with this deliciousness. This flavor is a long time coming if you ask me. I'm just glad that it is finally (almost) here.