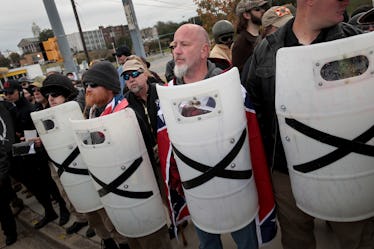 Hate Crimes Went Up This Year & We're Sadly Not Surprised
Scott Olson/Getty Images News/Getty Images
The bad news keeps getting worse. On Nov. 13, the FBI released an alarming new study tracking hate crime statistics in 2016, and sadly, none of the results turned out to be terribly surprising. Hate crime rates went up in 2016, and it really doesn't take a whole lot of detective work to figure out why.
The FBI gathered data from almost 16,000 local law enforcement agencies in order to break down last year's hate crimes. In total, 6,100 incidences were reported in 2016 — which is a 4.6 percent jump from the previous year. More than half of the crimes related to the victim's race. Statistics also show a rise in attacks against Jews, Muslims, and LGBTQ individuals.
Now, let's break down the timing of this hate crime spike.
During the very same month that Donald Trump was elected president, nearly 900 acts of hate were reported to the Southern Poverty Law Center (SPLC).
"People have experienced harassment at school, at work, at home, on the street, in public transportation, in their cars, in grocery stores and other places of business, and in their houses of worship," SPLC's November 2016 report began. "They most often have received messages of hate and intolerance through graffiti and verbal harassment, although a small number also have reported violent physical interactions."
That's alarming in and of itself. Even scarier? The report added,
Many harassers invoked Trump's name during assaults, making it clear that the outbreak of hate stemmed in large part from his electoral success.
It's not hard to draw a line between a rise in anti-Muslim sentiment and Trump's presidency. Throughout Trump's presidential campaign, he emphasized the threat he believes that Muslims present to the United States, and continuously painted an Us vs. Them narrative. After the election, Trump said that he was "saddened" by the suggestion that his supporters may have been attacking minorities, per CNN, and in an interview with CBS' "60 Minutes," directly instructed his followers to "stop it." But for many, it seemed clear that Trump's election emboldened some racist, bigoted Americans to come out into broad daylight.
People on Twitter jumped to some very similar conclusions.
Trump has continued to embrace prejudiced rhetoric since entering the White House. After a white nationalist rally descended on Charlottesville, Virginia in August, some wielding swastika flags and throwing up the Nazi hand salute, Trump chose to point fingers at both the white nationalists and the people who showed up to protest them.
"I think there is blame on both sides," he said during a press conference on Aug. 15. "You had a group on one side that was bad. You had a group on the other side that was also very violent. Nobody wants to say that. I'll say it right now." He added that there were "some very fine people" on the white nationalist side of the aisle.
Richard Cohen, the president of SPLC, noted in a statement in response to the FBI's latest findings, that "the words of our political leaders have consequences."
"President Trump has energized the radical right with his xenophobic rhetoric and has given bigots a license to act on their worst instincts," he wrote. "The most vulnerable people in our country are paying the price."
If you're already feeling completely horrified by these latest statistics, sadly there's more. According to Sim Singh, the national advocacy manager of the Sikh Coalition, the report only "represents the tip of the iceberg." During an interview with NPR, Singh noted that the FBI's findings only counted seven hate crimes against Sikhs in 2016.
"If law-enforcement agencies fail to document the true extent of hate crimes against our communities our nation will have a hard time mobilizing the political will and resources necessary to prevent and combat the problem," he said.
Singh suggested that law enforcement should enforce mandatory hate crime reporting. According to The Anti-Defamation League (ADL), almost 90 cities with over 100,000 people either reported no instances of hate crimes, or failed to supply data at all.
"There's a dangerous disconnect between the rising problem of hate crimes and the lack of credible data being reported," Jonathan Greenblatt, CEO of the ADL, told NPR.
Here's hoping that somehow, someway, 2017 is a better, safer year for groups facing prejudice. And that *ahem* will need to start from the top down, if you know what I mean.