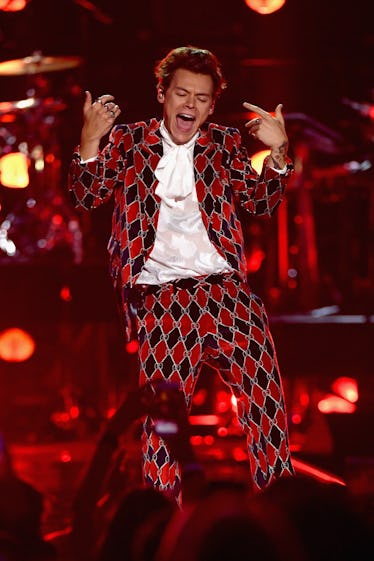 Harry Styles' Quotes About Loving Yourself Will Make You Feel All Warm Inside
Ethan Miller/WireImage/Getty Images
Former One Direction member Harry Styles has made major strides in his solo career over the past several years, but this year he's won big. Styles got his first solo No. 1 hit with the TikTok-trending track "Watermelon Sugar" in 2020, on top of causing near-constant internet chaos with his fabulous photoshoots and interviews. Rounding out the year, he got nominated for 3 Grammys (no biggie). Aside from all the glitz and glam of being a pop star, however, he spread love to his fans and led them on a journey of self discovery with his Fine Line promotional campaign of Fine Line, encouraging them to "Treat People with Kindness," including themselves. He may not be a self-help guru, but these Harry Styles quotes on self-love will cheer you up immediately.
It's no secret Styles had an intense journey to the top. From scyrocketing to success after being grouped with his One Direction bandmates on X Factor in 2010 to dealing with overzealous paparazzi, the superstar managed to deal with it all and still come out victorious. Many Stylers attribute some of their own personal growth to his lyrics and messages to the public, growing and evolving as people along with him in his artistic process. There are no shortage of important Styles quotes ("I think if I was girl, I'd probably have a crush on Zayn. Just look at him. He's just pretty, isn't he?"), but the following list is for only the most personal ones about loving yourself and perseverance. In short, we've decided to stan forever.
1. He's Unapologetically Him, Even When It's Hard To Be
Although you'd think he's always the confident rocker he portrays onstage, it's been work to show fans his true self. Styles tries his hardest to be unapologetically him in the spotlight. "I just always thought I was going to mess up or something ... But I've felt really lucky to have a group of incredibly generous fans. They're generous emotionally," Styles said, opening up about his intense stage fright in his Nov. 2020 cover story for Vogue. Now, he seems as comfortable at ever just being him. Fans can't over-analyze and try to dissect his artistic or life choices, they just have to take his persona for what it is: radical self-expression.
2. He's Constantly Thinking Of His Fans' Well Being
Life isn't easy, and Styles knows that. If he wanted fans learn one thing after going to a show of his, it's that if they could be themselves there, they can take that love with them. "I want to make people feel comfortable being whatever they want to be," he told Rolling Stone. "Maybe at a show you can have a moment of knowing that you're not alone ... I can't claim that I know what it's like ... I'm just trying to make people feel included and seen." He's constantly thinking of ways to make his music inclusive and his performances all-encompassing for fans, even if live shows won't be happening anytime soon due to COVID-19; he's still trying to make the Harry Styles Extended Universe feel like a place for self-love and acceptance.
3. He Knows He Doesn't Have All The Answers
Lyrics from Harry Styles' turbulent relationship anthem, "Sweet Creature," off his debut album pack a punch: "We don't know where we're going/ But we know where we belong." Although, contextually, fans believe he was speaking about a lover, the lines are somewhat of a personal declaration of self-acceptance, too. You may not always know what's around the corner next for you in life (2020 especially), but you know that you belong somewhere.
4. He Wants You To Hang In There
The song "Treat People With Kindness" was a perfect way to round out Styles' 2019 record, Fine Line. At it's core, the song is an anthem for Stylers to unite around with a message that is unflinching to opposition: "And if we're here long enough/ We'll see it's all for us/ And we'll belong." The quote drives home the point that radical self acceptance can be a vehicle to permanent self-love for those who feel like they don't belong. If you make it past the hurdles, if you weather the storm, you'll eventually find the inner peace you're looking for.
5. He's Made Mistakes Along The Way, Too
In a Feb. 27, 2020, interview with NPR, Styles revealed that his advice to his younger self on The X Factor would be simply, "Don't worry." He revealed that much of his earlier years in the limelight were dominated by self-doubt: "In the early years, I spent a lot of time worrying about ... getting things wrong and saying the wrong thing and doing the wrong thing." This quote about letting go of that doubt and letting whatever happens happen is a universal truth we all should keep close — even if we're not going on reality television anytime soon.