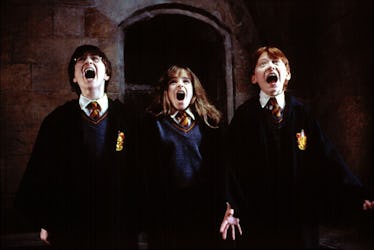 The First 'Harry Potter' Movie Is Coming Back To The Big Screen For Its 20th Anniversary
Warner Brothers
Most Potter fans know the first novel, Harry Potter and The Philosopher's Stone, was released in June of 1997, making 2017 the 20th anniversary. But it's not wholly accurate. This was the release date in the U.K. In the U.S., the book was renamed, repackaged, and slightly re-marketed towards a larger American audience as Harry Potter and The Sorcerer's Stone. It was released over a year later, on Sept. 1, 1998. To celebrate 20 years in the U.S., Harry Potter and The Sorcerer's Stone is coming to theaters at the end of August.
Sept. 1 is a big day in the Wizarding World, as it's "Back to Hogwarts" Day. This is the day all wizarding children head to Platform 9 3/4 and catch the Hogwarts Express for the fall term. The day is usually marked with muggles attempting to run into brick walls in King's Cross, a #BackToHogwarts hashtag, and for long-suffering wizards, a few butterbeers to make it through the day.
It will also be 20 years since the Sorcerer's Stone edition arrived on U.S. shelves and Americans discovered what British children had already known for over a year: J.K. Rowling's world was magic. To celebrate, at select theaters, it will be time for a Harry Potter marathon. Sorcerer's Stone will be the big draw, of course, but Cinemark Theaters will be showing all eight Potter films, plus Fantastic Beasts for good measure.
According to the press release:
Wizarding World XD Week will take place at all 141 Cinemark XD locations from Aug. 31 through Sept. 6. Tickets go on sale Aug. 3 at Cinemark.com.
For those who want to see all nine films, don't worry, the theaters will be selling weeklong passes.
Tickets to see the movies in Cinemark XD are $5 per film, or fans can purchase a limited-quantity festival pass for $25 to have access to all nine movies, all week long. The Wizarding World XD Week festival pass includes a collectible keychain, a specially designed cup that is refillable for $3.50 through the end of the year and a commemorative festival badge.
Apparently, the refillable cup won't just be good for the one week either.
Cinemark will be offering a special Fantastic Beasts cup for purchase that is refillable before and during the opening of the next Wizarding World adventure, Fantastic Beasts: The Crimes of Grindelwald, on Nov. 16. Additionally, exclusive Wizarding World merchandise will be available for purchase at all participating Cinemark locations.
This is only the beginning of the celebrations. The New York Historical Society will be opening an exhibit in New York. The Wizarding World Theme Parks will be having parties as well. But most can't travel to New York or Los Angeles. What they can do is find a movie theater owned by Cinemark nearby. It's a great way to join in the Harry Potter anniversary, just as wizards everywhere are heading back to Hogwarts for another year.
Wizarding World XD Week runs from Aug. 31 through Sept. 6, 2018. Tickets go on sale starting Aug. 3 at Cinemark's website. Fantastic Beasts: The Crimes of Grindelwald arrives in theaters Nov. 16, 2018.