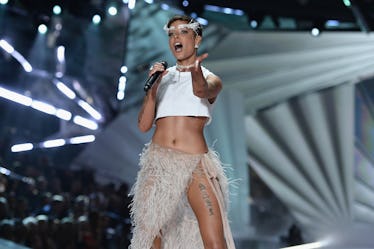 NBD, Halsey Got Inked Seconds Before Her 'SNL' Performance Thanks To Lil' Wayne
Noam Galai/Getty Images Entertainment/Getty Images
I'm still reeling from that moment when IRL queen Halsey stormed the Saturday Night Live stage on Nov. 10 and slayed her surprise guest appearance. TBH, I wouldn't have guessed that the moments leading up to her performance were spent getting inked with a last-minute tattoo, because no big deal, that's totally what one does to prepare leading up to a nationally televised show, right? Well, judging from her latest Instagram, Halsey's new tattoo on SNL from Lil Wayne is actually pretty cool, and there's a sweet meaning behind the Libra-inspired design.
On Saturday night, the "Him & I" songstress surprised SNL viewers when she joined Lil' Wayne for a rendition of his Tha Carter V hit track "Can't Be Broken" onstage. Halsey started off the duet by belting out the empowering hook, "You cannot break what can't be broken," and in my honest opinion, Halsey's melodic addition to the song makes it even better than the original — despite the fact that she apparently was getting a full-on tattoo on her arm right before she joined Weezy on stage.
While the songstress covered up her arms during the show with a leather jacket, she took to Instagram shortly after the performance to give fans a closer look at her newest ink. Fittingly, it seems to pay homage to the lyrics of the Lil Wayne song "She Will," and the rapper himself reportedly personally inscribed the design.
Alongside a close-up shot of her right arm, which now says the words "Sins" and "Forgiveness" next to a Libra scale of justice, she quoted a line from "She Will" to explain the meaning behind the design. "'On my Libra scale I'm weighin sins and forgiveness'," she wrote. "Got this yatted by @jonboytattoo seconds before walking onstage. thanks for writing this one out for me @liltunechi ⚖️ #libragang."
Considering that both Halsey and Lil Wayne are Libras (Halsey's birthday is Sept. 29 while Tunechi was born on Sept. 27), it's a pretty fitting visual tribute to celebrate performing with the legendary rapper and finally crossing that dream off her bucket list, especially when the design is in Weezy's handwriting. It's also likely that celebrity tattoo artist @JonBoyTattoo was not just conveniently waiting in the wings of the SNL studio, so I'm guessing that the design (as well as the split-second timing right before the show) was also something that was planned way in advance?
Whether or not the idea was spontaneous, it appeared like the "Without Me" hitmaker was in fangirl mode and loving her decision after their duet. Soon after finishing her performance of "Can't Be Broken," the singer took to Instagram to share a photo of the pair flashing peace signs at the camera. "Thank u for making this lil girl's dreams come true," she gushed. "Just performed "Can't Be Broken" on SNL with @liltunechi !!!!! PINCH ME! 📷: @samdameshek."
So yes, I'm still completely in awe over the fact that Halsey and Weezy somehow pulled that tattoo off before she was set to go on stage, and I think one thing's for certain: Halsey's got some legit pain tolerance if she can get inked and then still sound as amazing as she did just moments later.