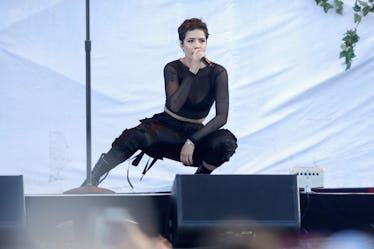 Ariana Grande's Fans Are Pissed At Halsey For Copying Her Style & The Tweets Are Brutal
Isaac Brekken/Getty Images Entertainment/Getty Images
Passionate fans are a beautiful thing. They can uplift and inspire the object of their affection, whether that be a singer, actor, or an entire 53-man NFL team. But however well-intentioned their fervor may be, it can sometimes translate into unnecessary drama. Case in point: fans believe singer Halsey copied Ariana Grande's style while on tour for her album Hopeless Fountain Kingdom, and they are absolutely livid about the lookalike costume.
The sexy-yet-quirky outfit is comprised of oversized white moon pants, a plunging V-neck bra, and floor-length jacket, all in the same puffy Astronaut-esque material. TBH, it's a pretty unique look, one that Grande wore in shows for the recently-wrapped Dangerous Woman tour. Fans are absolutely right to draw the comparison, because that's a rarely seen get-up, not at all ubiquitous on the stage like leotards, fishnet tights, or chokers. However, the Ariana Army is currently dragging Halsey (real name Ashley) through the mud on Twitter, and it ain't pretty.
For her part, the kween of high ponytails has kept hers held high. Grande hasn't responded or even acknowledged to the accusations, instead tweeting out gratitude to fans attending the last leg of her tour: "Last show tn. woke up feeling so incredibly sad. but also incredibly grateful. and filled w so much love. thank you." Considering the Halsey noise has already reached a fever pitch, I've got a feeling that Grande is not going to comment on the issue at all.
Here is the look on Halsey.
And here are Halsey and Grande side to side (pun intended).
Depending on where the show is taking place, Grande even tweaks the outfit. Here she is swapping out the baggy pants for sleek shorts and a slightly different top at a California concert.
As soon as the pics hit social media, fans were adamant and savage in their roasting of Halsey. "OMG Halsey became Ariana for Halloween!" wrote one user, while another instigated a vote. "Who wore it better? Ariana - Like, Halsey - Retweet." At press time, Ariana was up by a whopping 4,631 votes. YIKES.
But not all fans took to Twitter to throw shade at Halsey. Several of them defended the singer, citing "fashion is for everyone, not just Ariana" and "Ariana does not own that outfit." Another introduced the fact that Halsey had previously worn the get-up during her 2016 tour for Badlands.
But perhaps the most mature Tweet came from a pioneering user who instead called out the pettiness of the sparring sides. "Can we not pin female artists against each other? That trend is sad," wrote @daylily. Shut. Down.
This idea of celebrating and not cutting down female artists, even when they may sometimes appear to have borrowed or recycled an outfit from a fellow singer, is crucial. Fans should take a page from the playbook of another pop star, Charli XCX. The British singer recently took to Twitter to compliment Halsey on her latest performance. "I was really really really really impressed/blown away from your show. totally. smashed. it."
Another all-class response? The Scarlet Letter wearer herself. When the scathing criticism from fans reached Halsey, she took the high road and responded with praise for Grande. "Love Ari! didnt know about this but it's cool to me. My encore look varies, but I thought this was a cool badlands throwback. All love," tweeted the Now or Never songstress.
Once again, attention was brought to the fact that Halsey sported a dupe of the now-disputed outfit a year ago on Badlands.
How's that for a democratic reaction? So calm, cool, and collected. It looks like the pros, both Grande and Halsey, are all cool with each other. And while I'm sure they love hearing words of support from their devoted fan bases, perhaps all the people tweeting negativity should follow suit.