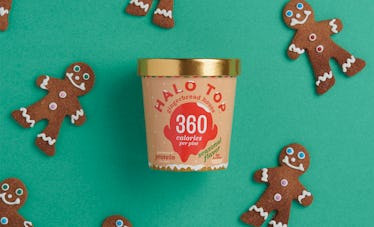 Halo Top's Gingerbread House Ice Cream Is Back To Be Your Favorite Winter Dessert
Courtesy of Halo Top
Winter is coming, which means it's time to snuggle up near the fireplace with hot cocoa and freshly-baked cookies. Sure, warm snacks are ideal when the temperature drops — but what if you're craving a chilly treat in honor of the approaching season? Thankfully, Halo Top Creamery is here for you. On Nov. 7, the company reintroduced a holiday favorite to its flavor selection, and it'll definitely put you into the spirit. More specifically, Halo Top's Gingerbread House ice cream is back just in time for the 2018 holiday season.
If you tried Halo Top's Gingerbread House flavor in 2017, you probably remember being overwhelmed by delicious chunks of cookies swirled perfectly into your pint. Thankfully, the holiday favorite is back this year with the same festive flavor. According to Halo Top, the Gingerbread House pint has "ginger cookie bites and rich swirls of icing" — so put your cookie tray down and reach for a spoon. It's without a doubt the perfect ice cream flavor to indulge in while binge-watching holiday movies, putting lights on the tree, or even decorating your actual gingerbread house. Double the gingerbread, double the holiday spirit... am I right?
Really, though. The pint sounds delicious, and I can't wait to dive in.
Now that you know what Halo Top's Gingerbread House ice cream tastes like, you're probably craving a pint for yourself. If that's the case, rest assured that it's finally in stores again. According to Halo Top, the festive flavor is now available in retailers nationwide. Yes, that means you should be able to find it with all of the other Halo Top flavors at your local grocery store. What's even better is that a pint won't cost you a fortune. Per Halo Top, the price of a Gingerbread House pint will vary from store to store — but it should cost between $4.99 and $5.99. Not bad, eh?
If you'd rather not search for the Gingerbread House flavor at your local retailer, you can also find the pint online. Per Halo Top, the flavor will be available via IceCreamSource.com on Friday, Nov. 9. But if you'd rather check out all of the other flavors that Halo Top has to offer, I'd suggest visiting a store and looking through the selection. You might end up leaving with more pints than you expected, though.
Now that the Gingerbread House flavor is available in stores, you don't want to wait on buying a pint. Why? Because it obviously won't be around forever. Per Halo Top, the holiday ice cream will only be available for a limited time until the end of December. So if you want to stock up for your New Year's Day party and the remainder of winter, you should probably buy a few pints while you can. Just because the end of December marks the end to the holiday season doesn't mean you have to stop celebrating, right?
Halo Top's Gingerbread House is back by popular demand, so you don't want to miss out. Between its ginger cookie chunks and swirls, it'll automatically put you into the holiday spirit. And, let's be real, it's never too cold outside to eat ice cream.