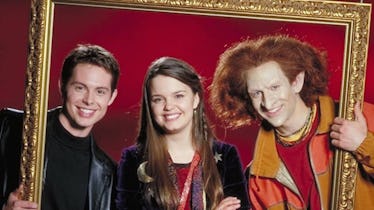 Guys, Marnie & Kal From 'Halloweentown' Are Dating IRL & I'm So Shook
Disney Channel
We all know that the original Halloweentown movie is the best of the classic Disney Channel franchise and that its three sequels don't quite measure up to the first time we met the Cromwell family of warlocks and witches. But if you were old enough when you first saw Halloweentown II: Kalabar's Revenge, you probably felt some special things for its new character Kal. The cute teenage son of the villain Kalabar pretended to be new in the neighborhood during the Cromwells' Halloween party, betraying Marnie and stealing Grandma Aggie's spellbook from their home. Daniel Kountz, who played Kal, has remained friends with the original Marnie, Kimberly J. Brown, over the years, but thanks to International Kissing Day, we know a lot more about the status of their relationship. Halloweentown's Marnie and Kal are dating IRL, and I can't get over how cute this is.
Brown, now 33, starred as budding teenage witch Marnie Cromwell in three of the four Halloweentown movies, and although her character's romance with Kal was briefly teased at the start of 2001's Halloweentown II, she had other love interests as the film series continued. Who could forget Halloweentown's resident goblin Luke or Marnie's romantic broom ride with mortal guy Cody? Sara Paxton's Marnie ultimately ended up with Lucas Grabeel's Ethan while they were at college together in Return to Halloweentown, but true fans don't talk about the fourth movie, right?
Despite only appearing in the second Halloweentown movie, Kountz stayed close with Brown, often appearing in photos on her Instagram page seemingly as far back as June 2017. Brown posted selfies of the two of them so frequently in the past few months that many fans commented on the photos wondering if the former co-stars were dating each other. In honor of International Kissing Day on July 6, Brown finally answered her followers' questions by sharing a professional photo of herself and Kountz kissing. Guys! Marnie's actually dating Kalabar's son!
The photo gives me serious vibes of an engagement photo shoot, but Brown stayed pretty subtle in her photo caption, writing:
#internationalkissingday you say? I'll just leave this right here then 😏
Isn't it the best when actors who played each other's love interests end up together? For a long time, High School Musical's Zac Efron and Vanessa Hudgens were the Disney real-life couple, but seeing as they're long over, I'm quite won over by the idea of Brown and Kountz together.
Although she seems to have only confirmed their relationship this week, Brown hasn't been shy about sharing glimpses into when she hangs out with Kountz. He was her date to Kaley Cuoco's recent wedding (who knew those two were friends?), they've taken quick weekend trips, and it looks like they even spent last Christmas together. In other words, this romance has been happening right under our noses, and NO ONE NOTICED. How did we let this adorableness escape us in these depressing times?!
Even better, devout internet sleuths probably picked up on the relationship long before Brown's kissing pic. The caption of a May selfie Brown posted of herself and Kountz reads:
Soooo can you please come back to Cali now? Kthanksbye
On her YouTube channel, Brown posts comedy sketches and vlogs of her annual visits to the Spirit of Halloweentown Festival in St. Helens, Oregon. In September 2016, she uploaded a comedic parody of a news show that tracked down the character Kal to talk about where he is nowadays. While Brown doesn't step back into Marnie's shoes in the video, Kountz appears as Kal, explaining the punishment he faced after casting an evil spell on Halloweentown in the second movie.
"Kal" also shares how he feels about Marnie after she and her family thwarted his scheme, revealing that he thinks about her every day and is "trying to come to terms with my feelings toward her and her family." This may have just been a fun project to satisfy Halloweentown fans, but now I really want a Notebook-esque sequel about Marnie and Kal reuniting.
It's safe to say that fans will definitely watch Halloweentown II with a different perspective this Halloween season. Forget Luke and Cody — I'm officially Team Mal.