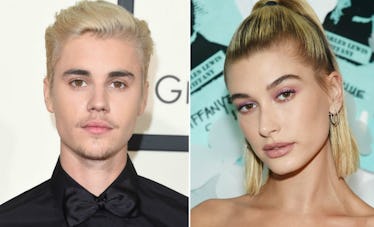 Hailey Baldwin Had The Best Response To All The Negativity About Her Engagement To Justin Bieber
JASON MERRITT/GETTY IMAGES ENTERTAINMENT/GETTY IMAGES; JAMIE MCCARTHY/GETTY IMAGES ENTERTAINMENT/GETTY IMAGES
Hailey Baldwin doesn't have time for the haters, especially when it comes to her recent engagement to Justin Bieber. The 21-year-old model recently opened up to Australian magazine Stellar about all things love and relationships. She also made it known how she deals with negative press surrounding her husband-to-be. And Hailey Baldwin's reaction to negativity about her engagement to Justin Bieber is honestly the best.
When asked how she's balancing her personal happiness with public scrutiny, Baldwin gave a sound response.
"I don't think it's affected me really," she told Stellar. "I have learned to just try my best to ignore the negativity at this time so that I can enjoy this season of my life.
Since the couple announced their engagement in July, after just a few weeks of dating, the internet has been rife with negative comments about how fast their relationship is moving.
Thankfully, Baldwin isn't letting that get in the way of enjoying what looks to be a promising future.
In fact, she's excited about learning, growing, and continuing to be a role model for young girls.
Baldwin told Stellar, "The fact that young girls look up to me truly blows my mind. I just hope I can continue to have something of substance to offer them."
Sounds like Baldwin has her head and her heart in the right place, which is amazing. What's more is that it seems Baldwin has a positive effect on the people around her as well.
In August, Us Weekly reported that Baldwin had such an effect on Bieber.
"Justin is really in love with Hailey. He loves that she is super chill and down to do anything," an insider source told Us Weekly. "Hailey has calmed Justin down a lot, and she has changed him as a man. He thinks she is forever and considers her his best friend and soulmate."
Bieber said as much when he announced their engagement on Instagram:
Was gonna wait a while to say anything but word travels fast, listen plain and simple Hailey I am soooo in love with everything about you! So committed to spending my life getting to know every single part of you loving you patiently and kindLY. I promise to lead our family with honor and integrity letting Jesus through his Holy Spirit guide us in everything we do and every decision we make. My heart is COMPLETELY and FULLY YOURS and I will ALWAYS put you first!
Clearly, Baldwin sends out lots of good vibes. If she's both a role model to young girls and a calming force in Bieber's life, then she must be doing something right!
Another source told Us Weekly in August that Baldwin is essentially in control of the relationship, but only because Bieber really trusts her judgment.
"Hailey actually is running the show and has a lot of control in their relationship. Justin really listens to her and trusts her," the source revealed.
If that's indeed true, then it sounds like they have a good thing going for them. No wonder Baldwin is so protective of their union. It makes perfect sense that she'd want to keep the world's negativity from seeping into her relationship.