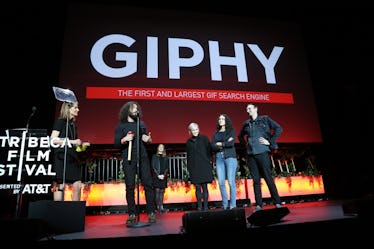 GIF Masters Can Win $10K From GIPHY's "Micro-Film" Contest
Rob Kim/Getty Images Entertainment/Getty Images
A new film festival is entering the ring, and it's made for those with the shortest attention spans. If you're known for your skills with 18-second video footage or less, here's how to finally make bank on your talents. GIPHY's "Micro-Film" contest awards you $10,000 plus a slew of other prizes for your award-winning loopable movie, and it's your chance to officially crown yourself as a GIF master. Here's what they're looking for.
According to the GIPHY film contest's website, applicants are expected to entertain their audience and provide some kind of a story in a clip of 18 seconds or less — a feat that requires editing skills and a good eye for a viral moment.
"We believe audiovisual storytelling does not have to be feature-length or even short length. We believe you can tell a compelling, creative, entertaining, professional-grade story in only 18 seconds or less." GIPHY's website reads. They reveal that the winning submission will be shown at the company's first-ever GIPHY Film Fest in New York City in November.
If you're still skeptical — after all, how can a GIF Film Fest rival something like Cannes or Tribecca? — GIPHY spokesperson Tiffany Vazquez points out that the very first movies were images that were simply looped together, and therefore a GIF is basically a tribute to the origins of filmmaking.
"Within 18 seconds or 6 seconds you can have a full horror movie, a romantic comedy or a melodrama," Vazquez said in an interview with Quartz. "The first films ever made were microfilms, and they didn't have sound."
It's impossible to deny that short "films" touted for the focus-challenged have been making a comeback in recent years. Instagram's Story video feature and Boomerang, Snapchat, and the now-defunct Vine have all tried their hands at the feature.
"One of the biggest things to come out in recent years is Vine," Vazquez explained. "People were telling stories and entertaining themselves in six seconds. There's really no reason why filmmakers can't give us compelling, entertaining, profound art within that amount of time, too."
Are you up for the challenge? According to the film festival website, all applicants must be over 18 years old and based in the United States. Considering the short breadth of the GIFS, creators have the option to submit up to three different movies in the available categories: narrative, stop-motion, animated, experimental, or wildcard/other.
Micro-film directors have until Sep. 27, 2018 to submit their videos, which must be shared in HD with mp4 formatting and 16:9/1080p specs. Sound is optional, but because it's a GIF festival, films must be loop-able.
According to the website, films will be screened and the grand prize pick will be announced at the New York City festival on Nov. 8, so I'd start looking into flights now if you're planning to compete.
Here's what's up for grabs. As the festival is sponsored by SquareSpace, the winner will take home a five-year subscription to the service as well as $10,000 and the option to curate an official Spotify playlist, per the website.
"I do think it's interesting that I'm reading more tweets than I am reading novels these days," Vazquez told Quartz. "We are at this point when we're inundated with content. Taking the short forms of these things and ingesting them … that's just how we're living these days."
Feel that you've got what it takes? Head to GIPHY's film festival website to learn more about the specifications and the judges, then get to GIF-ing to your heart's desire.