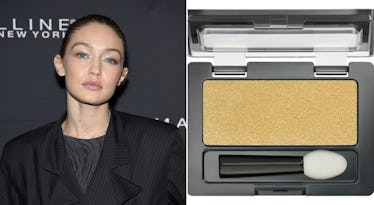 Gigi Hadid's Golden Birthday Makeup Look Used A $3 Eyeshadow, So You Can Sparkle For Cheap
Jamie McCarthy/Getty Images Entertainment/Getty Images // Maybelline
Leave it to Gigi Hadid to sparkle brighter than any star in the sky. The model recently celebrated her golden 23rd birthday on Monday, April 23, with a star-studded event in Brooklyn, and I'm ever-so-kindly overlooking the fact that I didn't get an invite. It's fine. I'm fine. Anyway, Hadid appeared a true gilded goddess at her birthday festivities, and frankly, I haven't stopped drooling over her entire ~lewk~ — particularly her makeup. But get this: Gigi Hadid's golden birthday makeup look is surprisingly attainable. Not to mention, if you're one to live for a good sparkle, you'll wanna cop this look stat.
It seems Hadid interpreted her golden birthday pretty literally, as the model was dressed completely in gold from head to toe as she celebrated at Brooklyn Heights Social Club. Aside from her makeup look, Hadid's outfit was also totally golden, as she wore a strapless, structured Atelier Versace dress complete with gold tassels, according to Us Weekly. She paired the dress with Louboutin stilettos higher than my potential for anything in life really, and even rocked a gold manicure with Swarovski crystals, because apparently, you can never have enough sparkle in one look. (Feel free to quote me on that, tattoo it on you, etc.)
But back to the makeup. Erin Parsons, a makeup artist for Maybelline, crafted Hadid's stunning beauty look for the night, and showcased her work in a sweet Instagram post to Hadid for her birthday. "You know I had to show some makeup lol 😂 but truly G, love you and beyond.❤️ happy birthday kiddo 🙏🏻 23," she wrote in the caption. Because Parsons clearly recognizes that the people (read: I) have a thirst for glitter, for affordable beauty, and to turn my face into Gigi Hadid's basically, she shared her secret to creating this gilded gorgeousness in a subsequent Insta post.
For all of us hoping to copy this sultry, shimmering perfection, Parsons made it super easy, not only by laying out the steps in her Instagram caption, but by using some pretty freaking affordable products:
Anyone want to know what the gold is?💡🙋🏻 using @maybelline Gold School Mono eyeshadow, apply wet over the lid and inner corner. Next apply gold craft store glitter (yep cheeeap!) over a clear glitter glue where you put the eyeshadow. Dab on with the fingertip for full coverage gleam! Finally add one gold Hexagon pailette to the inner corners for a blinding reflection! 🤗 hope you all liked the look! 🙏🏻🤗❤️ #Happy23Gigi#gigihadid hair @brycescarlett 👏
Yes, Maybelline's Expert Wear Eye Shadow in "Gold School" ($3, Target) is literally three whole dollars. I can't remember the last time I spent less than $5 on anything really, so Maybelline can just take my $3 right now, thank you very much.
As you can see in Parsons' Instagram caption, the Maybelline shadow acts as the base color for the overall look. But achieving the same level of sparkle Hadid had on her birthday is just as easy. According to Parsons, really any cheap craft glitter will do if applied over a "clear glitter glue." However, if you're like me and you have pretty sensitive skin, I'd opt for a fine glitter made for cosmetics, such as BH Cosmetics' Glitter Collection in Gold ($6, BH Cosmetics) or a glitter paste, like Lemonhead LA's Spacepaste in "Gildebeest" ($22, Get Lemon Head).
While we may not all be able to party with the likes of Gigi Hadid, Cara Delevingne, Hailey Baldwin, and even the fab five from Queer Eye, at least we can all rest knowing we aren't far away from being able to rock a look good enough for Hadid's birthday. Stay golden, fam — just like Gigi.