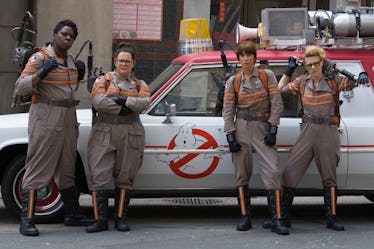 'Ghostbusters' Halloween Costume Ideas To Help You Kick Paranormal Butt This Year
Sony Pictures
Sometimes when I'm alone at night and can't sleep, I think about Kate McKinnon's fight scene against the ghosts in the movie Ghostbusters. It was – how do I say this? – the best thing that's ever happened to me. There are a ton of think pieces out there as to why it was so emotionally moving for so many women to see a female cast in those iconic jumpsuits, and I'll be the first to say I cried like a baby at the end. It's also totally inspired some awesome Ghostbusters Halloween costume ideas... I'm already running to my nearest Amazon to find my own Proton Pack.
Now, I know what you're thinking. "But Jamie, there are so many awesome characters to choose from, how can I pick?!" Well, Dear Reader, that is something you have to do some deep soul searching on. Do you mostly identify with a thoughtful brainiac like Melissa McCarthy's character, Abby? Maybe you feel more connected to Leslie Jones' street savvy character, Patty. Perhaps you are a gorgeous hunk of man meat with rocks for brains, and simply must go as Chris Hemsworth's gorgeous manifestation of the character Kevin.
Or, you could just close your eyes and point, because the magic of Ghostbusters is that a little bit of the characters are inside all of us...
...but here's a list of ideas to get you started.
Abby Yates
If there's one thing Abby totally rocks, it's a high ponytail. If there's a second thing Abby totally rocks, it's a graphic collar shirt under a cardigan. If there's a third thing Abby totally rocks, it's those heavy-framed glasses.
Try out this printed button up and throw it under a chunky sweater. Finish with a high scrunchy and trendy specs, and you're all set to freaking kick some paranormal ass.
Erin Gilbert
Say it with me now... BANGS.
Beyond Erin's buttoned up, old-timey, secretary (but in a good way) getup, her bangs are her most noticeable physical attribute.
Pick up some clip-in bangs if you aren't ready to commit to the chop, and snag Erin's plaid skirt and suit combo here.
Patty Tolan
As a New York City MTA employee, Patty makes it easy to snag her look for Halloween by sporting a full on uniform.
Construct your own MTA look by throwing a light blue button up under a black sweater vest. Finish with a red neck tie and DIY MTA patch. Finish with gold hoops to add Patty's personal touch. (Oh, and drive a hearse.)
Jillian Holtzmann
My dream. My everything.
While you can't purchase Holtzmann's cool and crazy, you CAN purchase some dope yellow steampunk goggles. Throw on some serious combat boots, carry a lot of metal objects or tin foil things to simulate her awesome gadgets, and good luck recreating that truly iconic floppy mohawk hair.
Kevin
Ah, Kevin. So simple. So sweet. So chiseled.
It's up to you if you want to go for "Office Kevin" or "Just straight up shirtless Chris Hemsworth and just say you're being Kevin, Kevin."
If you opt for Office Kevin, you're looking for heavy-framed lenses, a red and white polka dot button up, red polka dot tie and an open server's vest.
If you opt for "Just straight up shirtless Chris Hemsworth and just say you're being Kevin, Kevin," I can't help you.
Slime
Sure, you could get super arts and crafty about this and do something weird with green material or saran wrap, OR you could just buy this straight up Slime costume and call it a day.
The Whole Gang
Grab your pals, buy these Ghostbuster jumpsuits, strap on this Ghostbuster Proton Pack (that doubles as a backpack, THANK YOU!), and kick serious ghost butt.
When Halloween rolls around and the ghosts come out to haunt, who they gonna call???
YOU, DUH. STICK WITH ME, FOLKS.
Check out the entire Gen Why series and other videos on Facebook and the Bustle app across Apple TV, Roku, and Amazon Fire TV.