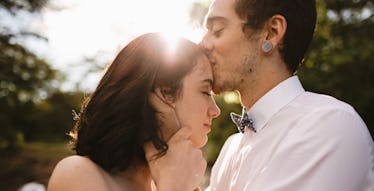 7 People Reveal The Perks & Pitfalls Of Getting Married As A College Student
When I was in college, I changed my undergraduate major up until basically the last possible second – first, I declared art history, and later, journalism halfway through my junior year – I can't imagine being ready to commit to something as big as marriage then if I couldn't decide on nine courses for a diploma. But there are people who commit to their partners by marrying them in undergrad. Getting married in college can have its pros and cons – a pro being you have a life partner through a fun and busy time in your life, a con being you may change a lot after those formative years.
I took to Reddit to find out who has gotten married in college, how long they were dating beforehand, and if these marriages have lasted through the trials and tribulations of school, and later, post-grad life. Some stayed together, had kids, and are still happy – and some have ended in divorce. Some were high school sweethearts and some met in college. Naturally, drifting apart as couples age is something that often happens, regardless if they're in college or not. Check out what Redditors had to say on this thread.