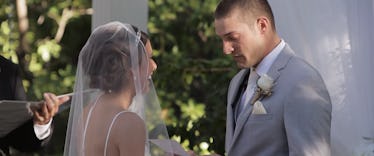 'The Bachelorette's Garrett Has Been Married Before, & His Wedding Video Has Me Shook
Jensen Films/ YouTube
Haven't been keeping up with this season of The Bachelorette? Well, let me give you a quick refresher. Becca Kufrin from Arie Luyendyk Jr.'s season of The Bachelor is the bachelorette this season, and one of the top contestants currently on the show is a dude named Garrett Yrigoyen, a 29-year-old medical sales rep from Reno, Nevada. Things were going smoothly between Kufrin and Yrigoyen, until he dropped a bombshell on last Monday's episode: He's been married before, and it lasted six months. (Gasp!) And it turns out, Garrett from The Bachelorette's first wedding video is on YouTube for the world to see.
TBH, I wanted this video to be totally cringeworthy and painful to watch (because obviously we're all rooting for Kufrin here), but it's actually pretty adorable. The only really painful thing about it is the fact that these two people, who seem to be so totally in love throughout the video, didn't manage to make their marriage last. Through tears during his vows, he reads, "Kayla, I hope you know that I love you with every ounce of my being and you realize your importance to me and how lucky I am to have you in my life."
And that's just the beginning. It only gets more adorable from there. Watch the video for yourself below but, seriously, make sure you have some tissues on hand. You will need them.
Here's everything else we know about Yrigoyen's ex, Kayla Cunningham, as of now.
Radar Online got ahold of court documents that state the couple tied the knot in the ceremony linked above in September 2015. They then proceeded to file for and finalize their divorce just six months later in March 2016. Strangely enough, that's the same month this YouTube video was released.
According to Yrigoyen, the marriage ended because it was an unhealthy relationship. "She was very emotionally abusive… she would take me down emotionally and then build me back up," he explained to Kufrin on last week's episode. He added that, to make matters worse, she also "drove a wedge" between himself and his family before they decided to call it quits.
So, according to Yrigoyen, the divorce was for the best and it should be nothing for Kufrin to worry about. But some sources beg to differ. One of Cunningham's friends allegedly told Life & Style that Kufrin should be careful with a guy like Yrigoyen
"He's a nice guy at first, but [Becca] needs to watch out," the friend warned of Yrigoyen's past behavior. According to the friend, Garrett went after half of Cunningham's belongings in addition to half of her money.
This isn't the first skeleton that has come out of Yrigoyen's closet. Back in May, former Bachelor contestant Ashley Spivey tweeted out a series of offensive photos that were allegedly "liked" by Yrigoyen on social media. They included transphobic, homophobic, and controversial statements. Following the scandal, Yrigoyen created a new account and released a formal apology.
While I can only imagine how these juicy plot twists must have helped bolster ratings for the show, some Bachelor Nation alums have come forward to say there's a lesson to be learned from all of this.
"You learn from your mistakes," laments formerBachelor Ben Higgins to Entertainment Tonight. "I think now it's time for — and I'm sure they will —the production company to say, 'Let's dig in a little bit more on who we're putting on the show.' You don't want this stuff to continue to pop up. I don't think it's fun for the show to have to deal with [these scandals]. I do think it's time for them to change their ways, but I don't know if they even expected this would be the case."
Here's to hoping they take Higgins' advice into consideration!
Check out the entire Gen Why series and other videos on Facebook and the Bustle app across Apple TV, Roku, and Amazon Fire TV.
Check out the "Best of Elite Daily" stream in the Bustle App for more stories just like this!