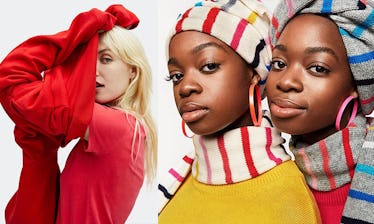 *EVERYTHING* At GAP Is 50 Percent Off For Black Friday — No, This Is Not A Drill
Everybody has that one Black Friday sale they wait all year for — some might count down 'til the big electronic discounts at stores like Apple and Best Buy. But I, on the other hand, wait in anticipation to shop for a new winter wardrobe at the GAP Black Friday 2018 sale. Why? Because, well, GAP is excellent when it comes to sales — store-wide sales, big ones, sales without exclusions. And this year is no different.
Get this: For Black Friday 2018, the entire GAP store is 50 percent off the original price! That's half off everything in the store, including new arrivals, expensive winter coats, and gifts for the whole family. And to make things even better (I know, but yes, it is possible), the sale already started. As of right now, you can hit GAP stores near you or shop online at gap.com and start saving on your winter wardrobe and get an early start on your holiday shopping. Just make sure to use the code BLKFRIDAY if you're shopping online. If you're making an in-store appearance, get there as soon as possible. (I'm talking leaving work early, waking up at the crack of dawn, logging late-night online-shopping hours, whatever you have to do.) This stuff is sure to go quickly.
To help you fill those carts (even the virtual ones) STAT, I'm sharing the best winter pieces to save your money on at GAP's Black Friday Sale.
Outerwear
Oversized Wool-Blend Cocoon Coat (regular price: $198, sale price: $99; gap.com)
Plaid Icon Jacket with Detachable Faux-Fur Collar (regular price: $168, sale price: $84; gap.com)
Teddy Funnel-Neck Pullover Hoodie in Milk (regular price: $90; sale price: $45; gap.com)
Dresses
Long Sleeve Sequin Swing Dress in True Black (regular price: $148, sale price: $74; gap.com)
Funnel-Neck Pullover Sweatshirt Dress in Vamp Red (regular price: $70, sale price: $35; gap.com)
Softspun Ribbed Cowl-Neck Sweater Dress in Off White (regular price: $70, sale price: $35; gap.com)
Shoes
Block Heel Sandals in Cheetah Brown (regular price: $70, sale price: $35; gap.com)
High Heel Western Booties in White (regular price: $128, sale price: $64; gap.com)
Mix-Fabric Lace-Up Sneakers in Sand (regular price: $50, sale price: $25; gap.com)
Bags
Mini Top Handle Crossbody Bag in Cognac (regular price: $35, sale price: $17.50; gap.com)
Faux-Fur Accordion Crossbody Bag in True Black (regular price: $40, sale price: $20; gap.com)
Large Tote in True Black (regular price: $70, sale price: $35; gap.com)
Mini Faux-Fur Shopper Tote Bag in Pale Pink (regular price: $35, sale price: $17.50; gap.com)
Sleepwear
Cozy Flannel PJ Set with Eye Mask in Buffalo Check Red (regular price: $35, regular price: $17.50; gap.com)
Pom-Pom Slipper Socks with Faux-Fur Cuff in Snow Caps White (regular price: $30, sale price: $15; gap.com)
Faux-Fur Crossover Slippers in Modern Red (regular price: $30, sale price: $15; gap.com)
Tops
Velvet Cami in Medium Gray (regular price: $35, regular price: $17.50; gap.com)
Denim Western Shirt in Dark Indigo (regular price: $60, sale price: $30; gap.com)