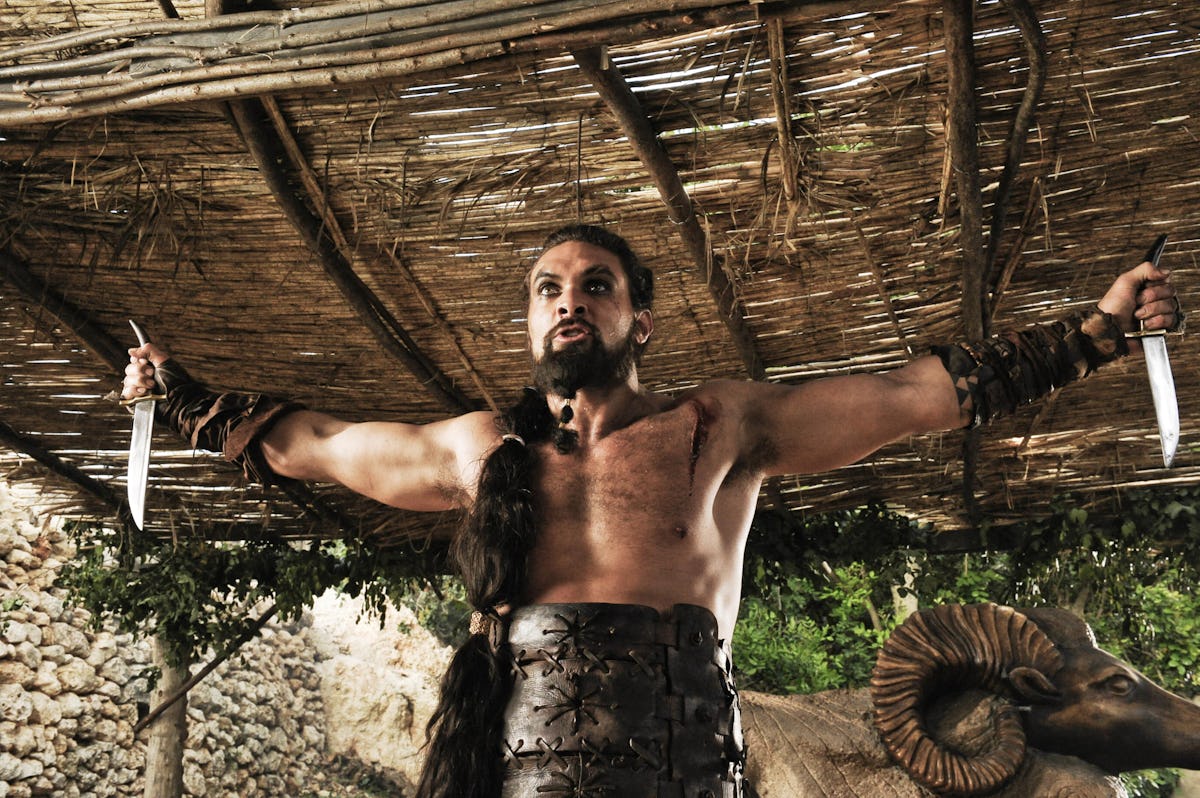 This 'GOT' Character Swears Season 8 Will Be The "Greatest Thing Ever Aired"
HBO
If Game of Thrones doesn't want to bring back Jason Momoa as Khal Drogo for a cameo in Season 8, HBO will certainly have a spot to hire him as The Show's Official Hype Man. Despite no longer being part of the series, Momoa is already getting fans ready for Season 8. He spent a good week running around Belfast with the cast last month, and during those long drinking sessions in the pub, apparently someone spilled some beans about top secret Game Of Thrones Season 8 spoilers.
Now, we don't know who exactly spilled the beans to him. For instance, we know Momoa hung out one on one with Emilia Clarke, who plays his former wife on the show Daenerys. As one of the top billed cast, she'd be privy to all the major plot points. But he was also seen at a pub with Kit Harington (Jon Snow, and, ironically, Daenery's new lover in the series). And he hung out with others, including Liam Cunningham (Davos), Rory McCann (the Hound), and Kristofer Hivju (Tormund, who we're guessing isn't dead).
So there's no telling who it was that couldn't keep calm and keep the secrets about Season 8. We're just glad that said beans were not spilled where eager-eared fans could overhear them and spoil it for the rest of us.
So what is this big Game of Thrones Season 8 reveal? Like Momoa is going to tell you! No, this is a man who still holds the torch and the flame for the show, which is the real Moon of His Life. Instead, he's telling us that when we finally see it, we're going to be floored.
Speaking to Entertainment Weekly, Momoa said:
Just knowing how amazing this season is going to be… It's going to be the greatest thing that's ever aired on TV. It's going to be unbelievable. It's going to f— up a lot of people. And it was a bummer because I'm a huge fan and I didn't want to know what's going on. I was like, Damn, I didn't want to know that!
Momoa only spent one season on the show, but he still watches faithfully when it airs, and has been loving the build up to the end of the series. On the subject of Season 7, which aired this past summer, he said it was one of his favorites of the entire series so far:
All last season I was jumping around like an idiot. Seeing the Dothraki riding over the hill, going into battle, surfing their horses, it was unbelievable. It was such a cool scene. It's also a bummer moment: Why couldn't [Drogo] have died there! I could have died in battle. We never got to see Drogo going into battle.
Speaking of the idea of Drogo lasting longer than just the first season, fans have been speculating that Momoa might be doing a cameo appearance for the final six episodes, due to his time in Belfast coinciding with the show's filming. Momoa wants everyone to know though that they absolutely should not get their hopes up for such a thing. He's not back for Season 8. This was merely a series of social calls he made on the set while in Belfast with Gal Godot for DCEU related matters. He and Clarke have remained close since his leaving the show, and he wanted to introduce her to Godot, as well as see his old friends, and meet some new ones, like Cunningham (who didn't start until Season 2) and Hivju (who wasn't cast until Season 3).
Game of Thrones Season 8 will return for the final six episodes on HBO sometime in the vague future, around 2019 or so.