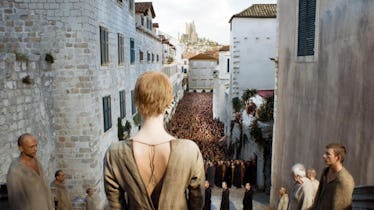 Cersei's Body Double Is Reportedly Back For 'GOT' Season 8 & We're Worried
HBO
Game of Thrones filming news has been surprisingly quiet the last couple of weeks. The cast is hard at work, but the precautions that HBO has taken to keep spoilers off the internet seem, of late, to have been effective. So, we've had to rely a bit on speculation and Instagram, as one of the more obscure actors took to social media and accidentally may have confirmed Game Of Thrones Season 8 spoilers, or at least a few speculative guesses.
We should be clear that the obscure actor in question doesn't play an obscure character on the show. Her name is Rebecca Van Cleave, and if you don't recognize it, it's because she's was only in one episode of the series so far, the finale of Season 5. She played Cersei's body, walking through the streets of King's Landing.
According to Winter Is Coming, who makes it their business to know every actor who has ever been on the show, a few days ago Industry Casting, who represents Van Cleave, tweeted out the actress was once again part of the series, cast as part of the eighth and final season. Said tweet was taken down within the space of a day or so, which is usually a sign that those in the PR department didn't realize this was news to be kept under wraps.
Warning: Speculation and spoilers for Game of Thrones Season 8 follow.
The removal of the tweet erased any doubts who Van Cleave might be brought back for. She was praised for her work in Season 5, and at the time she hoped to maybe come back as her own character in a minor role later on. Had the tweet been left up, chances are this was an announcement her wish had come true. But the fact that it needed to be kept under wraps suggests that once again Cersei will be full frontal on screen, and Lena Headey is unwilling to do it herself.
Why would Cersei need a body double? What possible further humiliation is there to be visited upon her? We're not sure. But Winter Is Coming has added up the clues of her stay in Belfast near Titanic Studios, plus a long and heartfelt Instagram that van Cleave posted on Feb. 28, and has determined that she did indeed go back and film a scene for Cersei, in the middle of the "Beast from the East" hitting Northern Ireland.
Check out the selfie she took while hanging out in a tent during her downtime:
Note that underneath the jacket, she's not wearing all that much, The more important bit though is the 3/3 of the caption:
6 years later, I am looking worse for wear, greasy, tangled, and bundled up in an easy-up tent in a snowy land far away, but feeling on top of the world. Today, I am doing what I love with some of the best actors and crew in the world. Today has been magic.
So what could this scene possibly be for? Obviously, if she was there for all of three days, and only filmed for one, it's for a single scene. Perhaps one where she seduces Euron? This is an option, but an oddly unlikely one. As we saw, Lena Headey had no problem doing a post-sex scene as Cersei last year with Jaime. She wasn't full frontal in that either. In fact, for sex scenes in general, the show has been shying away from full frontal since Season 5.
Could it be her giving birth? Other than the general assumption by most that Cersei's baby will never be brought to term, that too seems unlikely. Once again, there's way to film that which don't require full nudity.
No. The assumption should be that this is a scene where there's nowhere to hide, no blankets, no set dressing. Just Cersei, full frontal. My guess? Her death scene.
Current theories are that Cersei's demise will come as part of a Hamlet finale scene type situation, where Jaime kills Cersei, causing the Mountain to kill Jaime, and then Brienne and The Hound kill the Mountain in a joint revenge. Cersei thinks Jaime is hers, for life. She believes she can, in the end, turn him back to her. I could see her throw down the gauntlet, strip herself naked, and dare him to do it. She'd be forcing him to look at her, and remember everything they had together, as a last-ditch way to save herself.
Whether that's even close to the truth remains to be seen. Game of Thrones will return in its own sweet time to HBO sometime in 2019.