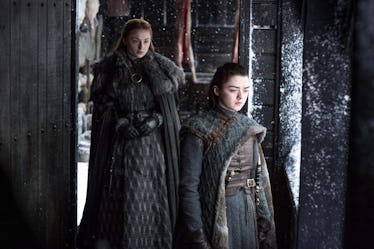 This Character Is Confirmed For 'GOT' Season 8 & It Spells Trouble For Arya
HBO
With filming now well underway for Game of Thrones Season 8, the first confirmations of castings for the final season are now starting to crop up on CVs. So far, there have been no major guest castings announced; nothing's been on par with Jim Broadbent playing a Slytherin maester in charge of poor Samwell Tarly. But the newest information points to one of our new faces playing a character that would be a major danger to Arya Stark in Game of Thrones Season 8.
The news actually tracks a slew of castings, most of which look to be smaller roles in the series, as some of them have finished their segments already. We start with the discovery that a young actress named Emer McDaid has put on her CV that her current project is "wrapping filming" for Game of Thrones Season 8. If you click though, you'll see she's a red head of middling height who could easily fit in with the Northern crowd.
And what a crowd it is. According to the casting company Independent Agency out of Northern Ireland, not only has Daid been cast in "a major TV series" but so have others:
Thomas Finnegan, Conor Maguire, Emer McDaid, Eileen McCloskey and Katie Tumelty join the cast of a major TV series.
That was followed by the fansite Watchers on the Wall saying they've heard another actress Danielle Galligan has been cast in the upcoming season, as a character by the name of "Sarra."
Put the two together, and add the following Instagram from Galligan of herself, McDaid, and a third actress, Alice Noakes and we've got some answers on our hands:
Captioned "Aaaaaand that's a wrap," it looks like we have at least three new actresses who will be appearing on the show.
But it's Galligan's character who we have a name for, and that name is one that should make book readers sit up and take notice; because so far, there's only one female character in the series by the name of Sarra: Sarra Frey.
Like many characters, Sarra hasn't had a big role yet in the novels. She just one of the sea of Frey faces presented to Robb Stark back during Edmure's wedding. (Yes, that wedding.) Mostly she's another name in the big old Frey family tree, granddaughter of Walder, daughter of Raymund Frey, who, in the books, is the one who actually slits Catelyn Stark's throat during the Red Wedding.
But here's why this matters. Sarra is the twin sister of Serra, who are both unattractive, vaguely pimply girls who Walder is likely to sneer at and sexually abuse from his seat at the head of the Frey dining hall. The kinds of granddaughters who Arya would feel sorry enough for not to let them drink from the poisoned goblets, initially as "I'm not wasting wine on a damn woman," but really because she knows these girls don't deserve to die.
Look up at that Instagram photo, and note that the girls on either side of McDaid have the same look to them, and the same hair. Are these Sarra and Serra Frey? Are these the girls she left alive, telling them Winter had come for House Frey?
But wasn't it Arya who lectured that such tenderheartedness was wrong? "You should have ripped them all out, root and stem. Leave one wolf alive, and the sheep are never safe." Did Arya seal her own doom, by making this same mistake with the Frey granddaughters?
Shooting is now underway at Winterfell. Did the Frey granddaughters come looking to bring their own Winter on the one who killed their family? Or are they simply struggling to get by, with nowhere else to go, heading up to Winterfell for safety, because no one else in Westeros will take in Frey oathbreakers?
Will Sansa find herself giving bread and salt to Frey house guests during this long winter, because it is the right thing to do? What will they do when they see Arya? Will they in turn plot to kill her? Will Arya have to take them down, to rip out those final roots and stems? How much danger is she in?
Game of Thrones returns to HBO for their final run of six episodes sometime in the middling future. Let's say, January of 2019 or so.